By: Sean Mattingly, Woof Boom Radio's Director of Technical Operations and longtime cord-cutter
You can avoid paying the cable or satellite TV company and their monthly equipment rental charges and watch Hi-definition television for free.
Here's how I did it.
I used a TV antenna, tuner with network connection, and my wired/wireless network router to bring the local channels to all the devices in my house.
Here are the components. Some of these, you may already have.
Outdoor TV antenna and amplifier. You've seen the tiny TV receiver panels sold in stores in this area.  Don't buy those because in the Delaware County area, we're located geographically too far away from the Indy TV stations that are to be received here.  In my opinion, the local stores should not be selling the tiny indoor TV antennas because they won't bring in enough signal for reliable reception.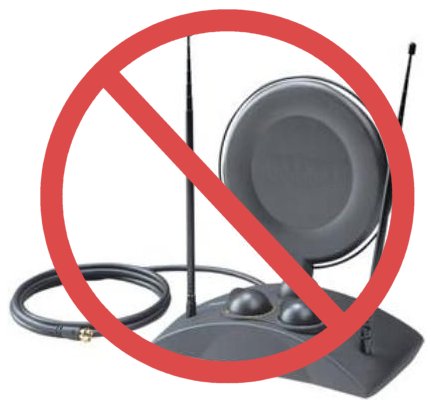 (Indoor TV antenna, inadequate. So many are returned to stores after purchase!)
You need an outdoor yagi-style TV receiving antenna such as this: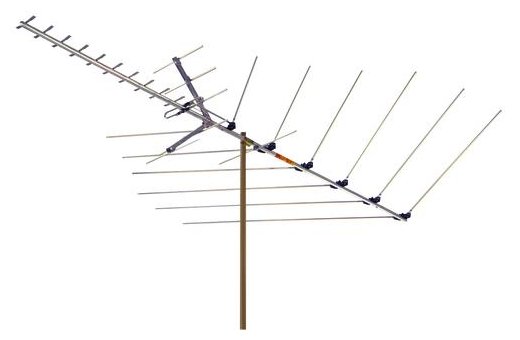 (Yagi TV receiving antenna)
The antenna is a little ugly, but you can get past that if you consider that this one-time purchase can bring you savings over your cable bill of $1,200 a year or so. I've had a TV antenna for 30 years, so my cable bill savings are ahead of you by $36,000!  Menards and Lowe's are still antenna-friendly places to buy your antenna, TV preamp, coaxial cable, and other such accessories.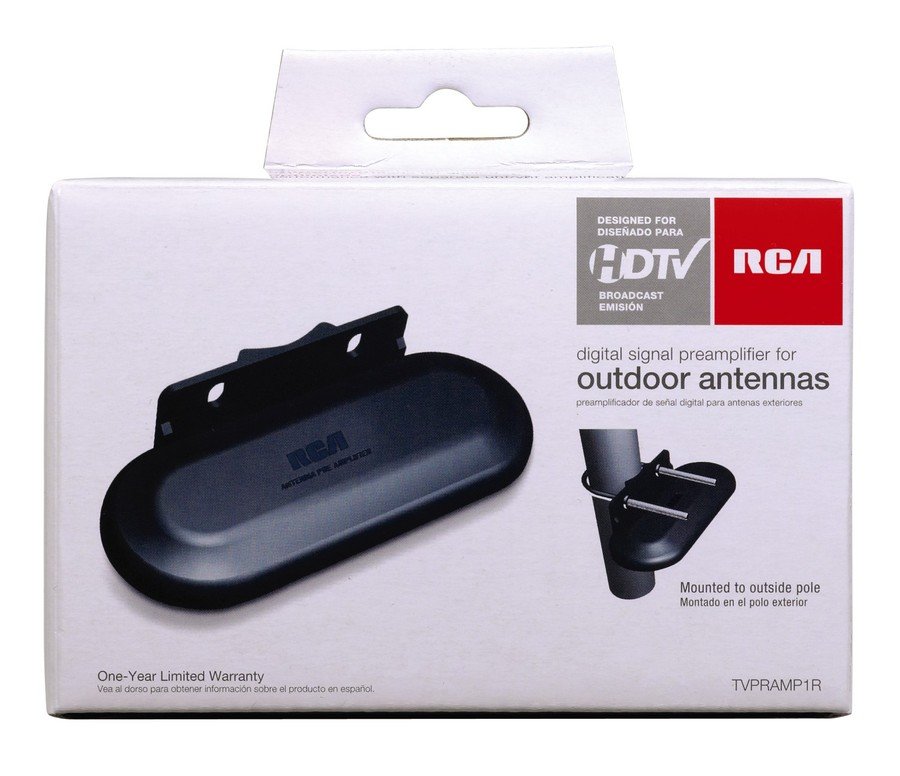 (Antenna preamp. The box contains 2 parts: the amplifier you see on the box and a little power supply (not shown) which plugs in inside the home.)
In the Muncie area, you're 50 or more miles from some of the TV transmitters in Indy, so that antenna needs to be pointed at Indy, and as high in the air as you can practically get it. You have a choice of rooftop mount, wall side-mount, or as a last choice, attic indoor mount IF your home is especially tall and has no metal roof on it.  Install the antenna on the tallest portion of the house or garage because you want line-of-sight between the front of the antenna and the far away TV transmitters you're pointing at.  If you can get the overall height at 20 to 30 feet above ground level, that will yield the most reliable, watchable signals day-to-day in most weather/atmospheric conditions.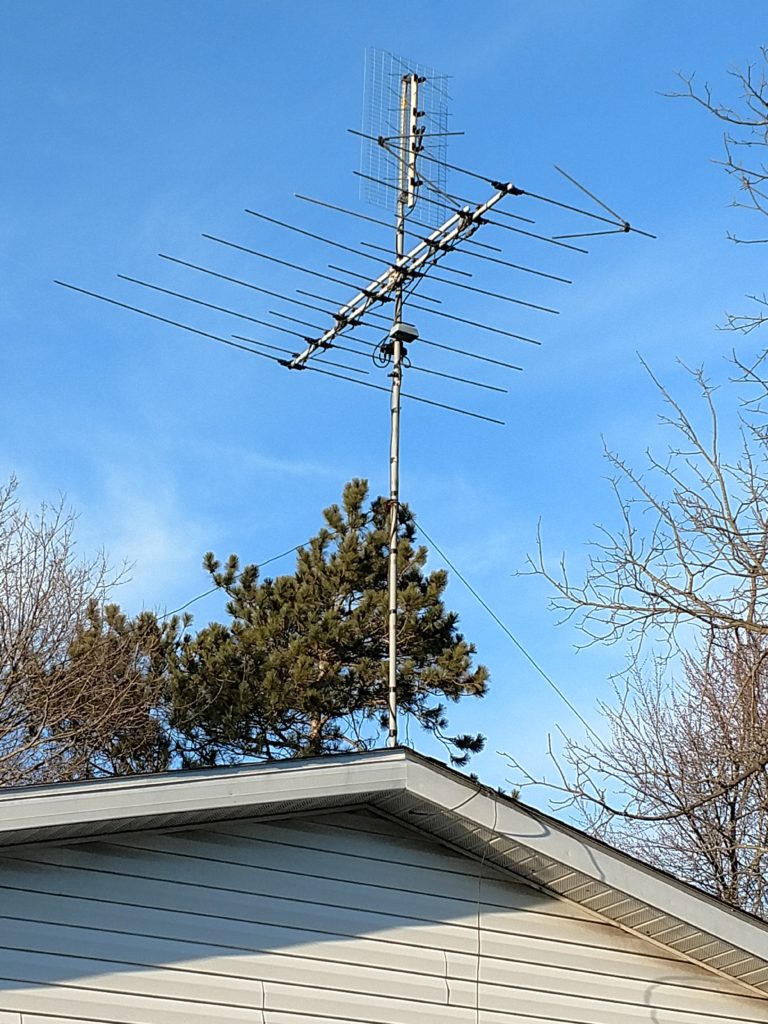 (TV antenna mounted on a garage rooftop.)
The 2-part TV preamp system mounts to the underside of the antenna, on the support pole. Hook some coax cable to the preamp and run it down near your TV.  Hook the indoor end of the coax to the TV preamp's power supply and plug it into a power outlet.
Next component is a network tuner. This is the most amazing part of the system that takes the incoming local TV channels and puts them onto your home computer network so all your modern devices can have a slice of that.  This one is called HD HomeRun Extend.  You'll be using it to get the live channels to your wired devices or wireless devices such as a dumb TV, smart TV, laptop, tablet, smartphone, networked DVD player with apps, etc.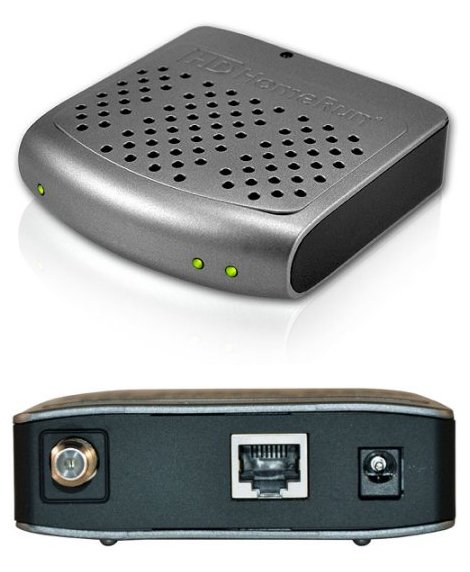 (HD HomeRun Extend, seen front and back. Look how simple the rear connections are.  Antenna coax, wired network, and power supply.)
The HD HomeRun Extend has two TV tuners in it, so multiple devices in your home can watch or record different channels. Here is a connection diagram which shows all the entertainment possibilities once you have an antenna connected to one of these HD HomeRun Extend tuners.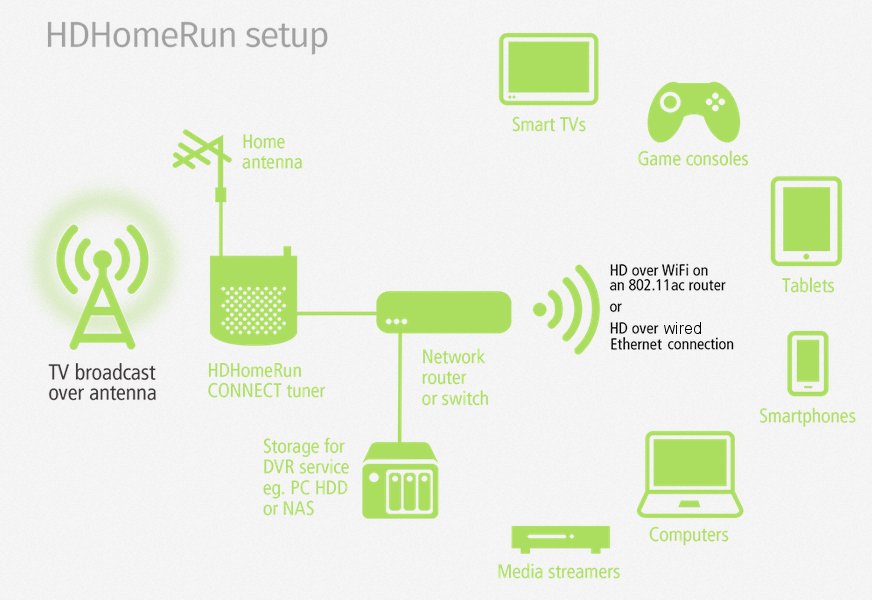 (HD HomeRun possibilities. They make a few models of the tuner device, called Connect and Extend.  The Extend version has higher quality video for mobile devices.  In the lower part of this diagram, the "Media streamers" illustration can also include smart DVD players.)
Now you are set to do these cool things:
Turn on your (non-smart) TV or projector.   If you have a network-connected DVD player, it probably has a menu section with Apps on it. There you go. Find (or add) the app for HD HomeRun. Then you can control which local TV channel is being tuned via the DVD player's app and watch it live.
Use any PC which has Windows Media Center and watch local TV channels on it. Windows Media Center has a setup routine where you can train it to use the HD HomeRun tuner as a source. Then you can setup Windows Media Center's Channel Guide based on your Zipcode. Through the Channel Guide, you can record local TV channels on any schedule you come up with. The shows are saved to your PC's hard drive. The great thing about this is – if you save the shows to the PC's "Public" folder, it creates a folder inside that called "Recorded TV" and any network device in your house can be made to access it.
Use a smartphone to watch local TV channels. Search your Apple or Android Play store for free apps called HD HomeRun. If you're using your home's wifi with your smartphone, you have access to your TV tuner.
Use a smartphone to tune/align your TV antenna. There is a signal strength measuring app that can be used while you're aiming a TV antenna on the roof to get the most signal. The app is called Hdhomerun Signal Meter. It communicates through your home wifi network, back down to the HD HomeRun device and shows you instantaneous signal strength on your smartphone screen. You can stand on the roof, and turn your antenna toward certain TV towers for maximum signal strength on your desired channels. Handy for setup or tuneup!
Use any PC to watch local channels via a program called VLC Player. It is a free program and can play network streams. Let's say your HD HomeRun Extend device is on your home network as http://192.168.1.17 so to watch Saturday Night Live, you'd want an NBC station such as digital Channel 13.1. You'd go to VLC Player, hit "Open Network Stream" and pick the channel called http://192.168.1.17:5004/auto/v13.1


Use a PC to browse the HD HomeRun Extend list of TV channels directly. You'll see a screen such as this: (part of my channel lineup as seen on a PC's browser such as Firefox.)
Below is the full list of channels I am receiving in Anderson, Indiana as of March, 2018. Your results will vary a little bit in Delaware County because of the greater distance from Indianapolis TV transmitters. In my opinion, Blackford County residents have the best antenna TV watching experience in our geographic area. They can add an antenna rotor to their system and choose between Fort Wayne TV stations and Indianapolis TV stations. They rotate North to catch Fort Wayne stations. Or they rotate Southwest to catch Indy TV stations. A rotor is not generally required in Delaware county. A rotor is an option for Madison County if you want to swing that antenna around and pick up WIPB Channel 49 a little better.
Watch local TV on a Windows10 PC. There is a free app in the Microsoft store called HDHomeRun. Install that and you can see your channels in this clean interface. The rightside column is a channel picker menu with an integrated show listing.

The channel selector app you see above is free.  If you'd like to add DVR features to it, there's a subscription for $35 per year.

Conclusion: It is nice to have a do-it-yourself live TV project, saving all that money with zero cable TV bills. If you still need some internet, most people don't know that you can get a Comcast/Xfinity internet-only service. Yep, you can get "cable" without the channels. They have a basic internet-only package called Performance Starter Internet with speeds up to 25 Megabits. Then you're good to get a Netflix subscription that comes through the internet. Make sure you don't get tagged for their monthly modem rental fees. You can buy your own cablemodem so easily. With live channels from the antenna, Netflix and free YouTube, I've covered 99% of anything I'd ever want to watch on TV.

---

Links to items mentioned or inferred in this article, starting at the antenna end of the setup:

Menards RCA 43-element outdoor TV antenna: https://tinyurl.com/yd7z4cje
Amazon RCA pole-mounted preamp + power supply combo: http://amzn.to/2p6ofPH

Menards RCA 53″ Steel Antenna Mast Extension (the antenna pole, get quan 2 of these): https://tinyurl.com/y7zobszd

Menards RCA Antenna Roof Mount Bracket: https://tinyurl.com/ybvobrql
Amazon Guy Wire ring for the mast, it anchors the tops of the guy wires: http://amzn.to/2DjkonB
Amazon Coaxial cable to run between preamp output and house preamp power supply, 100ft: http://amzn.to/2GhK7jd
Amazon Coaxial connector crimper tool kit with cable stripper and 10 connectors: http://amzn.to/2HpzSZJ
Amazon Own your own internet modem with wifi and avoid Comcast's monthly rental charges to save about $120 per year: http://amzn.to/2Fykw4x
Also consider adding some lightning protection to your antenna setup. These are cheap components. You'll need a static grounding block which is a part that drains the unwanted static charge off your coax cable up near the antenna, a roll of bare copper ground wire which you would run from the static grounding block and the lawn, and a connection to a nearby grounding rod which is driven into the earth. There is a simple connection diagram for these parts included in the RCA preamp box.
Silicondust is the manufacturer of the HD tuners and has several types, plus apps and software to access them: https://www.silicondust.com/
The author can be contacted at sean.mattingly@woofboom.com whom urges you to be super careful while climbing on rooftops.
Antennaweb.org shows you a conservative list of channels avail from your Zipcode and the direction to aim your antenna. Handy mapping. They also have a channel guide and a link to TV show listings: http://www.antennaweb.org/
Amazon Belkin 12-Outlet Power Strip Surge Protector with built-in connectors for coaxial cable lightning protection which gives an indoor ground point: http://amzn.to/2FKF4dm
Amazon SiliconDust HDHomeRun CONNECT (these have 2 live TV tuners built in): http://amzn.to/2GgBRzP
Amazon eye bolts to anchor the guy wire to a roof, a 4-pack: http://amzn.to/2GgQtzs
Menards 19-Gauge 50′ Guy Wire to support/stabilize an antenna pole: https://tinyurl.com/ybrk6daw