By: Mike Rhodes—
Muncie, IN—On April 14, 2017, Sean and Heidi Hale, owners of the highly successful downtown business, Heidi J Hale Designs, opened their newest venture: Olive & Slate. The business is located directly across the street from Heidi J Hale Designs at 304 S. Walnut, Muncie.
At Olive & Slate, you'll find a wide variety of very unique home décor and gift items. That extra touch of style and quality is found in all products you'll find at Olive & Slate. It's a business where you could spend a fair amount of time looking at all the unique products they carry. You have to take your time or you might miss something!
Jacky Johnson is Heidi's mother and she manages the store. Jacky is very knowledgeable about all products Olive & Slate carries during the year.  Here are some of Olive & Slate's popular in-stock products that Jacky recommends you come in and see!
Agates and Geodes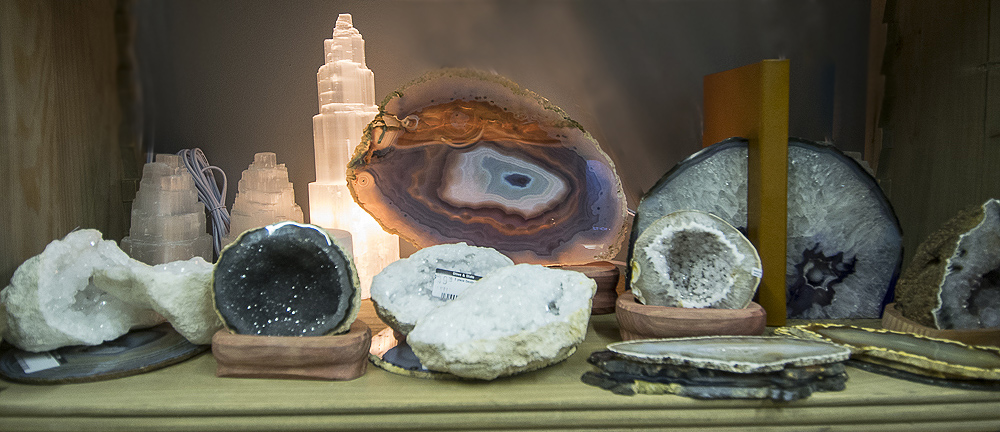 According to Jacky, Olive & Slate's agates and geodes are very popular with customers. They are good for adding a bit of interest to bookshelves or as accent pieces throughout your home. Agate slices are also pictured and Olive & Slate also carries them in a unique book-end style. (Far right in photo above.)
Onyx Lamps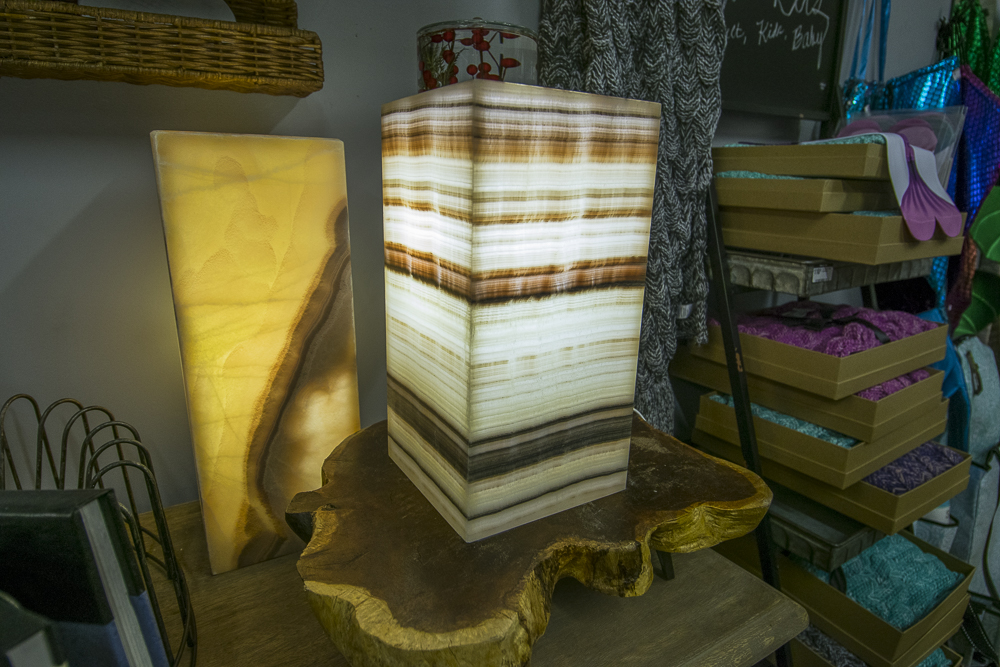 These beautiful Onyx Lamps are hand-carved in Mexico. According to Jacky, these are a very popular home décor item. The lamp takes on entirely new visual characteristics depending upon whether the lamp is turned ON or OFF. Jacky recommends placing the lamp on a hearth, mantle or end table as an accent lamp. (Lamp is turned ON in photo.)
White Dish ware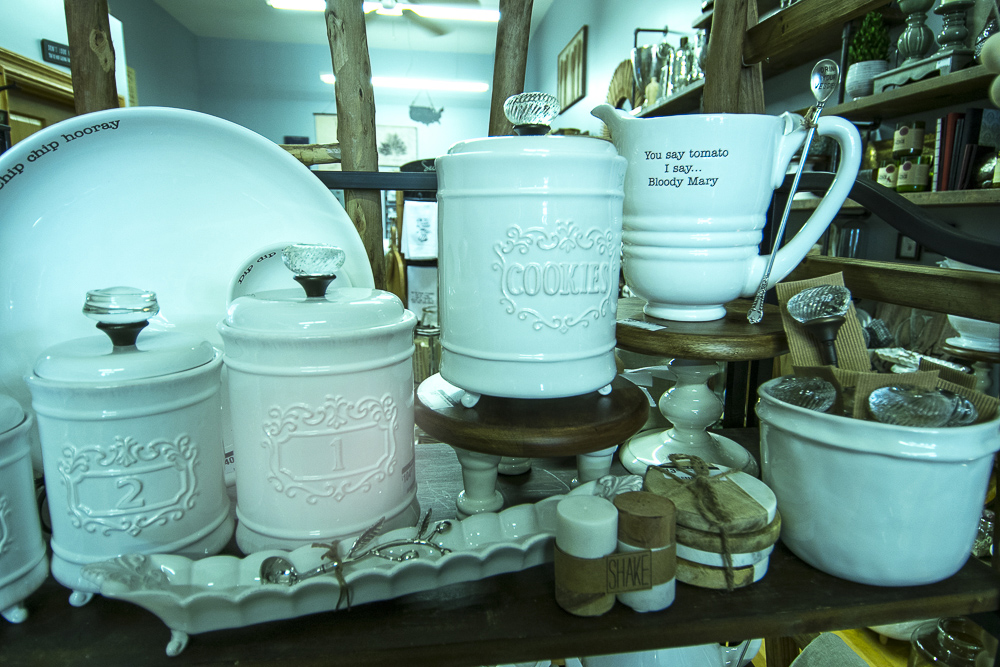 These white dish ware items are a very trendy home décor item this year. Olive & Slate carries a variety of pieces in the series. Some even have catchy, fun phrases baked into the finish. Like the pitcher (top right in photo) that reads, "You Say Tomato, I Say Bloody Mary." The spoon attached to the pitcher reads, "Drink Your Veggies." Fun, right?
Easter Items, Galore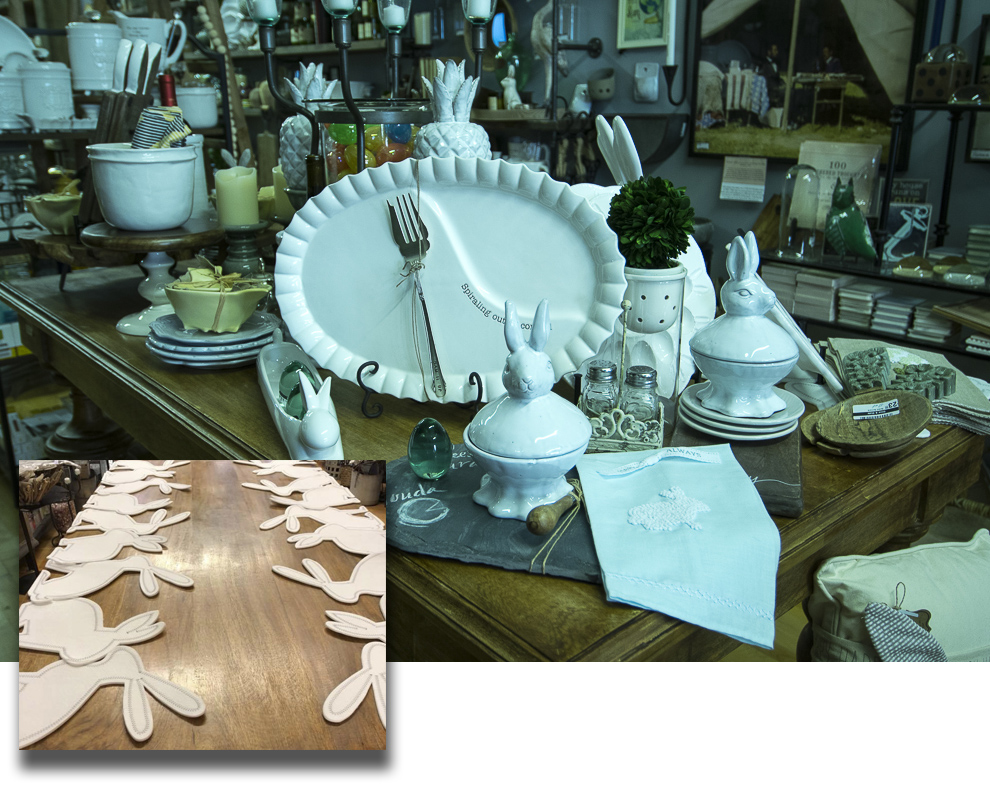 Along with the white dish ware collection,  you'll also find a variety of Easter-oriented items that match. Like candy dishes with bunnies, platters, Easter bunny accent pieces, and more. Even a bunny table runner constructed of heavy felt. Perfect!
New Faux Succulents Are In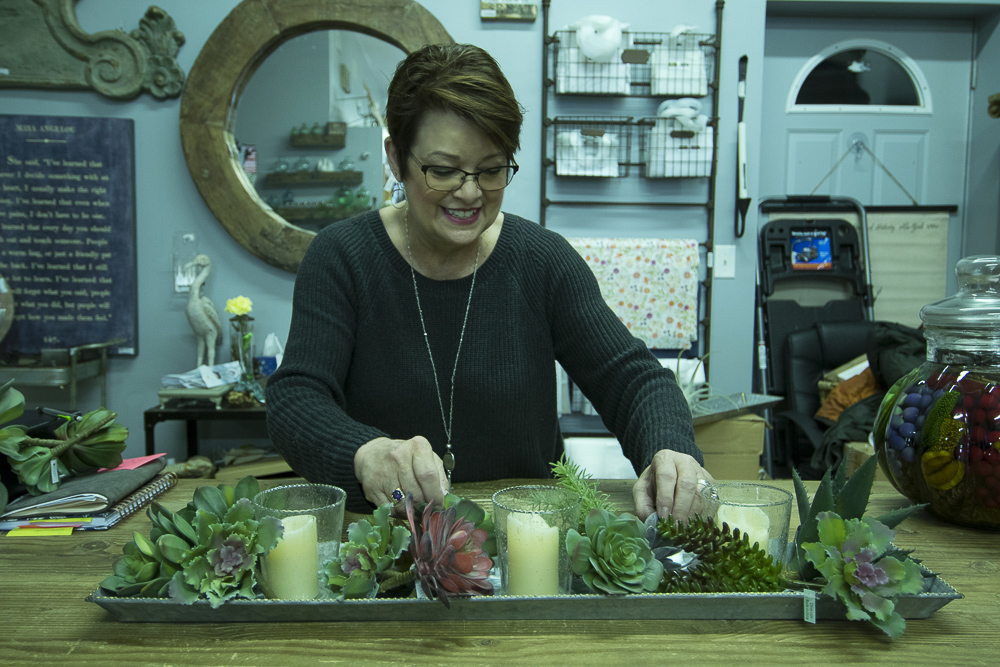 Here's a Jacky favorite. You can have a perfect green thumb with Olive & Slate's new faux succulents! No worries about the pets knocking them over or eating them. No watering! No fuss! Perfect!
Products With the "Chip and Joanna Gaines" Look

Olive & Slate carries home décor items that have a Chip and Joanna Gaines look. Chip and Joanna Gaines host a popular HGTV show titled: Fixer Upper. The hosts of the show like this look and has made the gray, galvanized look a very popular one in home décor circles.
Spring Throw Pillows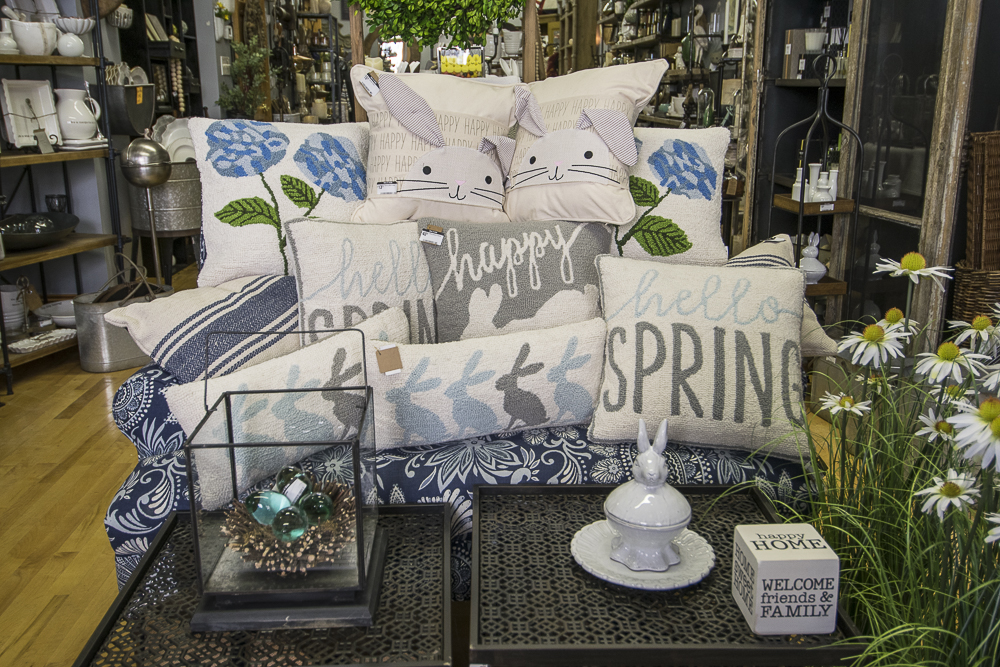 Jacky says there's nothing easier than refreshing a room for Spring, than by swapping out your throw pillows. It's a great way to quickly change the visual treatment of your room. Olive & Slate has a number of pillow styles to choose from, including Easter-oriented pillows.
One of the goals of Olive & Slate is to keep people shopping in Muncie, without people having to travel to other places to purchase unique home décor items. That has happened and the store has people coming in from Indianapolis, Carmel and a variety of Indiana cities.  "We wanted to have a unique store that would make people want to come to Muncie, like they do for our other store across the street—Heidi Hale Designs," said Heidi.
"We've had people come to our jewelry store from Ohio, Illinois, Kentucky and all points across Indiana. We want Olive & Slate to be a destination shopping site. Because of our success with the Heidi J Hale Designs storefront, we realized that people wanted to come downtown to shop, they want to spend money, and they want MORE shops downtown. We are very happy to be here."

Olive & Slate
304 S. Walnut Street
Muncie, IN 47305
Phone: (765) 216-6952
Facebook: https://www.facebook.com/oliveandslate/