By: Mike Rhodes—
Muncie, IN—104.1 WLBC, 104.9 WERK FM and the City of Muncie invite you to attend "Set the Night to Music" on July 4th at the levee in downtown Muncie to see and hear one of the most dazzling fireworks displays around.  The musical soundtrack accompanying the fireworks will be broadcast live on WLBC and WERK FM. (Listen to WLBC on 104.1 FM and not the WLBC Hi-definition radio channel, as there will be a slight delay on the Hi-definition channel.)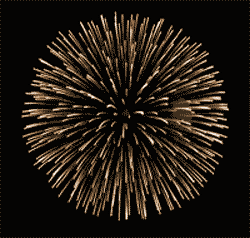 In Muncie, there are few days more anticipated than the 4th of July. Ringing in its 154th Independence Day Celebration, locals young and old will come together for food, fun and – best of all – incredible fireworks! As night falls over the city, a spectacular finale by Guinness World Record-Holding Fireworks by Grucci will illuminate the Levee at Muncie Central High School with extraordinary bursts of light, color and sound. Fireworks begin about 10pm. Wheeling Avenue will be closed between the Fallen Heroes Bridge and Amazing Joes beginning at 8pm.
"Muncie is such a charming, special city," says CEO and Creative Director Phil Grucci. "We look forward to painting the city's skies red, white and blue as we honor the brave men and women who preserve our freedom. As Muncie celebrates this joyous occasion, we hope to bring smiles and joy to people of all ages through our vibrant pyrotechnic designs."


About Fireworks by Grucci: Holders of the Guinness World Record for the "Largest Fireworks Display" ever recorded, Fireworks by Grucci is a sixth-generation, family-owned and operated company. Known as "America's First Family of Fireworks," the Gruccis have transformed the night skies to the delight of millions across the globe since 1850. They are world-renowned for pyrotechnic artistry, scientific innovation and old-fashioned values. Their signature performances include the recent official celebration of the 200th Anniversary of the National Anthem "Star Spangled Spectacular," in Baltimore, countless performances in and around Las Vegas, NV., seven consecutive U.S. Presidential Inaugurations; the Olympic Games in Beijing, Salt Lake City, Los Angeles and Lake Placid; commemorations such as the Centennial of the Statue of Liberty and star-studded extravaganzas including the grand opening of the Atlantis Dubai and the Palm Jumeirah Island in the United Arab Emirates. On New Year's Eve 2013, a stunning performance displaying 479,651 fireworks made its debut above Dubai's iconic skyline. The Gruccis achieved their "Largest Fireworks Display" title with this performance and smashed the Guinness Book of World Record's preceding mark. Phil Grucci currently serves as President, CEO and Creative Director of Fireworks by Grucci, Inc. and Pyrotechnique by Grucci, Inc., the manufacturing entity of the Grucci group of companies.