By: Hannah Dunckel, LifeStream Services—
Muncie, IN—It's a few weeks before Medicare Open Enrollment. You answer the phone and the caller says, "We're issuing new Medicare cards before open enrollment. Before we can send you your new card, we need you to confirm your Medicare number."
This sounds legitimate, right?
If you answered YES to this question, you would be wrong. Unfortunately, Medicare Fraud is one of the most prevalent scams targeting older adults over the age of 65. Medicare fraud happens when Medicare is billed for services or supplies you never received. There are many different types of Medicare fraud.
A prevalent fraud occurring in 2019 is Genetic Testing Fraud. This type of fraud is typically seen at community events in which the company is promoting "free" testing and requests your Medicare number. The company will then bill Medicare for the cost of the test.
These scams are sneaky and appear to be the real deal, that's why so many people fall for them. A good rule of thumb to prevent Medicare fraud is to treat your Medicare number like your Social Security Number; don't give it out to just anyone.
LifeStream Services works with Senior Medicare Patrol (SMP) to educate the aging demographic of the different types of Medicare fraud and how to stay protected.  If you suspect you have been a victim of Medicare fraud or another financial scam, you can call Senior Medicare Patrol at 800-986-3505 or visit http://www.iaaaa.org/senior-medicare-patrol/smp-overview. Your local SMP is ready to provide you with the information you need to protect yourself from Medicare fraud, errors, and abuse; detect potential fraud, errors, and abuse; and report your concerns.
Fraudsters are good at what they do, but you are better. Stay vigilant and proactive to protect yourself against fraud.
About LifeStream
LifeStream is an Area Agency on Aging that works to improve the quality of life for people at risk of losing their independence. LifeStream serves over 19,000 seniors and people with disabilities throughout 12 counties in Indiana including Blackford, Delaware, Fayette, Franklin, Grant, Henry, Jay, Madison, Randolph, Rush, Union, and Wayne. Programs and services include care management, transportation, in-home care, Senior Cafes, home-delivered meals, guardianships, caregiver support, home modifications, information and assistance, volunteer opportunities and more.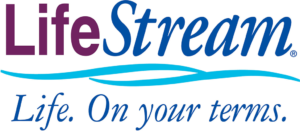 LifeStream Services
1701 Pilgrim Blvd.
Yorktown, IN 47396
Ph: (765)759-1121
Our website: https://www.lifestreaminc.org/
Facebook site: https://www.facebook.com/lifestreamservices