By: Sam Condon—
 Muncie, IN—Mark your calendars for September 24—the grand opening of the National Museum of African American History and Culture (NMAAHC). View the live streaming event at Minnetrista while enjoying A Place for All People poster exhibition, The Shemaniacs, and a light continental breakfast, beginning at 9am. Minnetrista is proud to partner with the Muncie Black Expo, R.A.C.E. Muncie, the Human Rights Commission, the NAACP, and the David Owsley Museum of Art of Ball State University to make this program available to the community.
 Though located in Washington, D.C., the NMAAHC celebration will reach beyond its borders and across the country to museums and community organizations like Minnetrista, who will be presenting the live streaming watch event and "A Place for All People: Introducing the National Museum of African American History and Culture," a commemorative poster exhibition on display in the lobby.
A Place for All People, organized by the Smithsonian Institution Traveling Exhibition Service (SITES), is in collaboration with the NMAAHC. A Place for All People highlights key artifacts that tell the rich and diverse story of the African American experience.
SITES has been sharing the wealth of Smithsonian collections and research programs with millions of people outside Washington, D.C., for 65 years. SITES connects Americans to their shared cultural heritage through a wide range of exhibitions about art, science and history, which are shown wherever people live, work and play. For exhibition description and tour schedules, visit sites.si.edu.
As SITES' collections travel across the country, share your NMAAHC experience by using #APeoplesJourney. For more information on this and other events, visit minnetrista.net, or call 765.282.4848. Follow us on Twitter and Facebook for the most up-to-date information on our exhibits and events.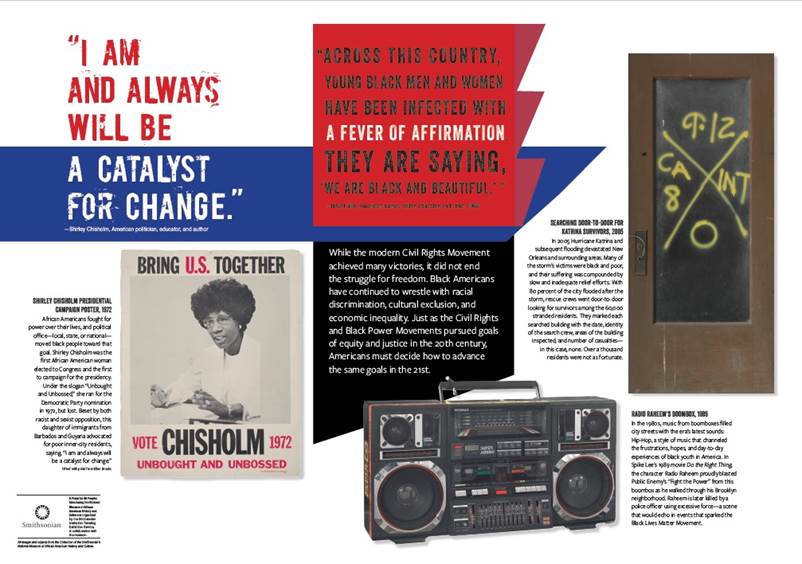 The National Museum of African Ameican History and Culture is the 19th museum of the Smithsonian Institution and is located at the foot of the Washington Monument on the National Mall in Washington, DC. The museum provides for the collection, study, and establishment of programs and exhibitions related to African American life, history, art, and culture. It is a place where people can learn about the richness and diversity of the African American experience; it is a place of meaning, memory, reflection, laughter, and hope.
Located along historic White River, Minnetrista includes 40 acres of beautiful gardens and grounds, a modern museum facility, an historic home, Nature Area, numerous sculptures, and a portion of the White River Greenway. Minnetrista serves East Central Indiana with dynamic community activities and exhibits that honor and reflect its natural and cultural heritage. For more information about Minnetrista, visit www.minnetrista.net.