By: Erin Moore—
Ball State's home football season kicks off this Saturday with a battle against Eastern Kentucky. For those of you still on the fence about whether to mark your calendars for this season's home games, here are the top five reasons to cheer on the Cardinals!
Parking is relatively easy and cheap. Yes, Tillotson, McGalliard, and Bethel can be intimidating on game day. But as far as major sporting events go, its fairly easy to find inexpensive (and even free!) parking within walking distance. Those who are interested in the tailgating scene can park on the west side of Tillotson for just $5 ($20 for oversized vehicles.) Parking is free at Worthen Arena, just a few blocks east of the stadium. Or consider catching one of the MITS shuttles. See more info about game day parking online. 
Tickets and concessions are super affordable. Football season tickets start at just $9 per game, and individual tickets range from $15-24. (And did you know that Ball State sporting events – including baseball, cross country, field hockey, golf, soccer, softball, swimming & diving, tennis, track & field, and men's volleyball – are completely free?)
Be sure to check out the Pepsi™ Plan for All deal, which provides two general admission tickets, two Pepsi drinks, two hot dogs, two bags of chips, and two Ball State caps for $34. Add a friend for just $17 more! Tickets can be purchased online, by phone, or in person on game day.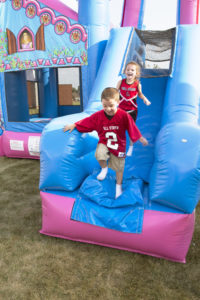 One word: CharlieTown. Now in its second year, CharlieTown is a FREE family-friendly fun zone on the west lawn of the Alumni Center two hours prior to all home games. Everyone in the community is invited to enjoy fun activities, bounce houses, music, spirit groups, Pride of Mid-America Marching Band, Charlie Cardinal and a $5 meal deal at the Chirp'n'Grill tailgate. Two hours before kick-off, all fans can welcome the football team on Cardinal Walk! While pre-registration is requested for the meal deal, you do not need a ticket to the football game to enjoy CharlieTown.
(More) fun for the kiddos. In addition to CharlieTown, kids can enjoy bounce houses and other inflatables on top of the hill in the stadium during the game. For year-round fun, members of the Cardinal Kids Club get free admission to ALL Ball State athletic events, t-shirt, membership card, exclusive field and court access, and other special promotions – all for $30!
This is our team! Even if you consider yourself a Hoosier, Boilermaker, or Golden Domer at heart, the Ball State Cardinals are our hometown team! Seriously, how could you not want to root for these guys? Or these guys? For more behind-the-scenes reporting, be sure to check out the stories produced by students of Ball State's Digital Sports Production program – the first of its kind in the country.
For more information about Ball State Athletics, visit www.ballstatesports.com. Chirp Chirp!
Erin Moore is Communications Specialist, Government Relations and Community Engagement at Ball State University.