By: Mike Rhodes—
Beaty & Sons Services began offering  services many years ago in the Muncie Indiana area. Shortly after opening, founder Mark Beaty realized his company offered something unique—an eye for detail. As a result, his small business flourished and many more  services have been added, including flood restoration.
Beaty & Sons services are backed by a 100% satisfaction guarantee. Today, Beaty and Sons is one of the largest specialty carpet cleaning & restoration companies in the Muncie Indiana area. They have more than 20 years of experience in the industry, yet have remained a family-owned business with a close-knit culture.
Beaty & Sons are IICRC certified in carpet cleaning and water restoration.
Beaty & Sons experienced team members are passionate about earning the trust of  home and business customers by providing a continually expanding list of value-driven cleaning and restoration services.
According to Mark Beaty, "There are a lot of carpet cleaners in Delaware County. We want to do things right. I'm not concerned with how fast I can get a job done. I don't cut corners. That's not me. I offer a premium, quality service, and I think that's what my customers want— quality service. We put the "service" back into carpet cleaning."
Carpets need regular routine maintenance. Beaty says if you see dark tracks though through your house— that's damage.
"I want people to understand that textiles today are not of the quality they were in the past. When carpet starts to wear, it wears quickly. When you see dark lines running through the traffic areas in your carpet—that is wear. The carpet fibers you see in wear areas cease to reflect "light" like they once did. So the fibers cast a shadow that looks dark to the eye. The best thing I can do for my customers is to educate them on maintaining their carpets so they don't wear out."—Mark Beaty
Beaty suggests that many of us seem to live in a replacement world. "When something wears out, we just throw it away and buy new," he said. "That approach has an impact on our environment. I think the longer we can keep something in good shape and maintain it, the better off our environment will be."
Beaty & Sons uses different types of equipment specifically tailored to fit the cleaning needs of a customer's carpeting.
"We use hot water extraction—often referred to as "steam cleaning," Mark said. "But we also use different equipment such as power wands. Power wands are unique tools that allow us to completely scrub down to the base of the carpeting. We also offer odor removal services, although there's really no magic solution you can spray on a carpet if you've got serious pet odors. Sometimes you have to remove the carpeting pad, or seal a subsurface in order to eliminate the odor. We offer those services, too." Some of the other services Beaty & Sons offer include:
Carpet Cleaning
Beaty & Sons carpet cleaners use the industry's most advanced carpet cleaning system(s), which remove ground-in soil and revive your carpet's appearance. Additional services such as deodorizer and stain-resistant protective coating are also available.
Upholstery Cleaning
Our specially trained and certified upholstery cleaners and technicians have expertise in many difficult-to-clean materials, including silk, suedes, ultrasuedes and velvet. We also offer deodorizer services as well as stain-resistant protective coating.
Emergency and Restoration Services
If you're in need of emergency and restoration services, Beaty and Sons is available 24  hours, seven days a week. Call (765) 729-3388.
Concrete Floor Care
Like all other flooring surfaces, concrete floors can become dull and dirty over time. A professional cleaning by Beaty & Sons Concrete Floor Care process brings new life to your indoor and outdoor concrete floors!
Natural Stone Care
Beaty & Sons offers a high-quality, proven natural stone cleaning process. For most surfaces, the service involves pre-cleaning and masking of non-treatment areas, pre-sealing to maintain a dry surface, honing to remove scratches, etches, and wear marks, and a final polish and sealing.
Drapery Cleaning
Drapery cleaning is Beaty and Sons signature service. We will remove dust, smoke, pollen, odors and soil and return your draperies with parallel pleats, even hems and without shrinkage. Our technicians will even re-hang your drapes for you.
Wood Floor Cleaning
Beaty & Sons Wood Floor Cleaning Service extracts hidden dirt from deep within the boards of wood floors and includes a detailed hand cleaning of hard-to-reach areas. A final machine scrub is followed by the application of a shining top coat.
Tile and Grout Cleaning
Our grout cleaning and tile cleaning services employ a powerful truck-mounted cleaning system. We'll safely clean your surfaces (such as flooring, showers and countertops), removing dirt and contaminants. And by the way, we can handle your grout repair or grout color sealing needs as well.
What  customers say:
I just bought a new home and everything was absolutely perfect, except for the stained white carpets. We debated on having the carpet replaced vs. cleaned. After receiving an outstanding recommendation from a family member that we trusted, we decided to call Mark. He was able to fit us into his schedule quickly, which we needed since we only had 1 day to get it completed before moving our things in. I was absolutely amazed when I saw the flawless results.—Jessie

The service provided by Beaty & Sons was outstanding. From scheduling the appointment to cleaning up—everything was friendly and professional. Scott was an excellent technician and did a wonderful job. My carpets look beautiful!  Thank you. I would recommend this company very highly.—Judy

Great company! Honest, dependable, & reasonable rates. Mark removed a stain we were fairly sure wouldn't come out! I will use them again & recommend them highly.—Melinda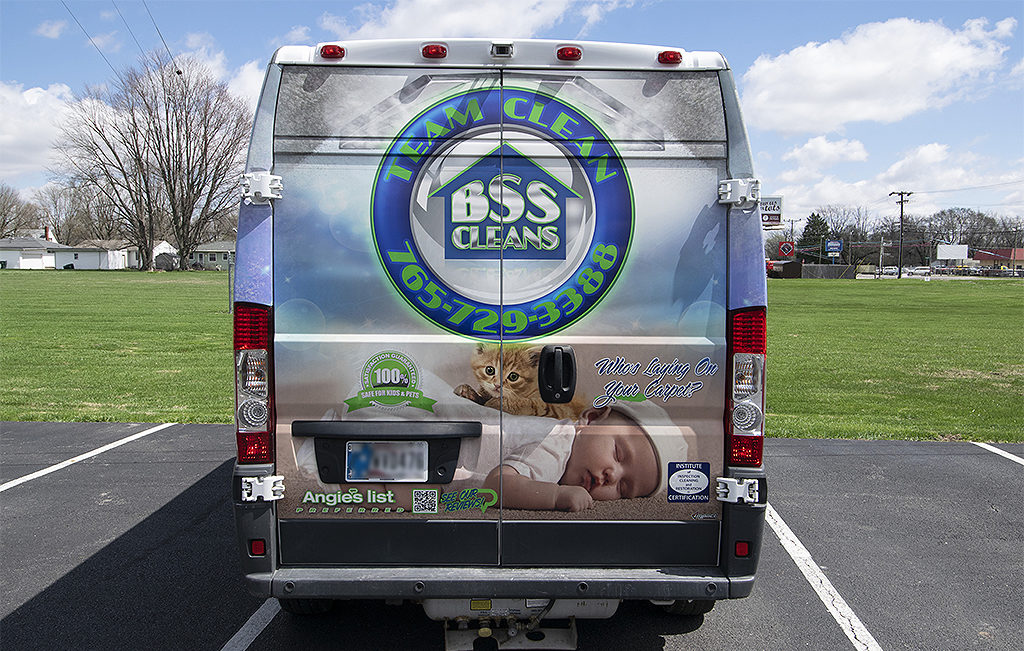 Phone: (765) 729-3388
Website: http://www.beatyandsons.com
Facebook Page: https://www.facebook.com/BSScleans/