By: Ball State University—
Muncie, IN — The Ball State University Board of Trustees passed a resolution today to accept the responsibility to appoint a new school board to manage the Muncie Community Schools ("MCS"). The community is already showing its support by collaborating with Ball State to help MCS thrive.
Rick Hall, chair of the Board of Trustees, noted that this is the first time a public university has assumed such a responsibility for local public schools.
"Ball State has a long history as a national leader in education innovation and civic engagement. At the same time, we strongly believe in the power of education and the collective ability of our community.  Today, we have once again combined our talents and values in the most meaningful of ways – to better the future of the children in Muncie and Indiana."—Rick Hall, Chair, BSU Board of Trustees
President Geoffrey S. Mearns said, "I am encouraged and energized that our University now has the opportunity to lead a community-wide partnership to improve the educational experiences for all of the children in Muncie. The future of our University and the future of our city are dependent upon the success of MCS. Today, we are now united to secure a brighter future for all of us."
The role of Ball State in leading the community-wide collaboration is already well underway having generated more than $2.9 million in private philanthropic support for MCS.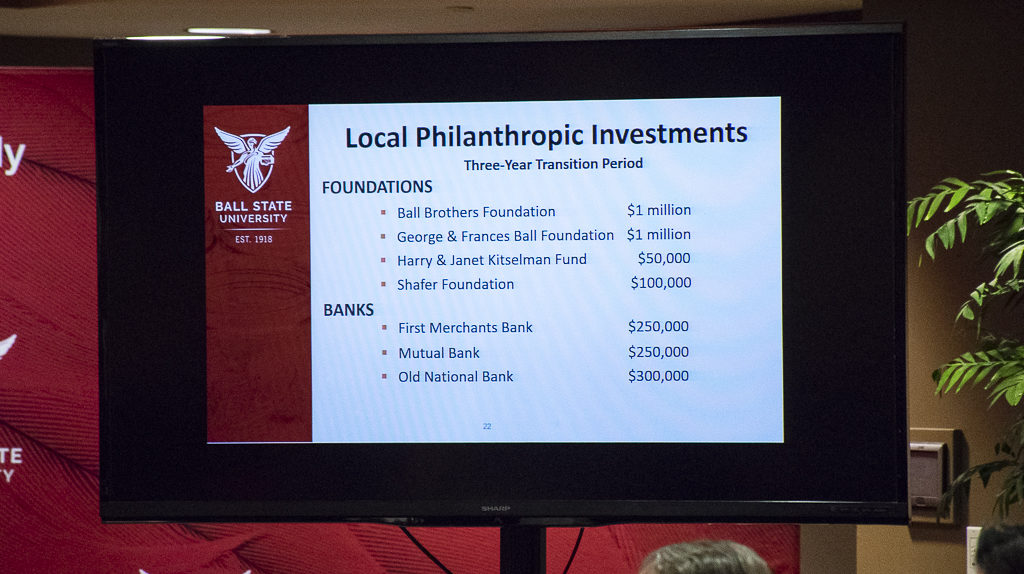 During his presentation to the Trustees, President Mearns emphasized two important points regarding the immediate transition. First, beginning July 1, the current emergency managers of MCS, Administrator Assistance, will assist the new school board during a 60-day transition period as provided in the current contract with the Distressed Unit Appeal Board.
Second, Administrator Assistance has indicated that the finance plan, which will be presented to the newly appointed school board for the next school year, anticipates that the salaries and benefits next year for all returning MCS employees will be the same as this current year. President Mearns remarked, "These are reassuring points of information and should relieve some of the immediate concerns of the employees returning to MCS."
MCS teachers and staff will be the first to benefit from the collaboration. As part of the philanthropic support for MCS, the University will direct $50,000 to fund classroom supplies for MCS educators to use in their classrooms.
In addition, MCS employees, including teachers, will receive a scholarship to enroll in programs at Ball State. These scholarships will be a 50 percent tuition reduction for up to 6 credit hours a year per employee. MCS employees will also receive preferred pricing for season tickets to Ball State athletics and entertainment events.
"The teachers and staff are at the center of this partnership," President Mearns said. "They are the heart and soul of MCS. They are valued and respected. We plan to meet with teachers and staff in their schools before the end of the academic year. We want to hear more about the successes within MCS and learn more about the challenges they face."
Under the resolution passed by the Board of Trustees, Ball State will immediately begin the process of receiving applications for the appointed MCS school board. Beginning May 17, an online application form will be available at bsu.edu/mcs. Applications will also be available at Ball State University's Bracken Administration Building, located at 2000 W. University Ave., Room 106. Application forms can be filled out online, and also mailed or dropped off at the Administration Building. All applications must be received or postmarked by June 1.
Listen to WLBC recorded audio of BSU President Geoffrey S. Mearns, as he comments during the press conference. Click the play button below to listen. 
About Ball State University
Founded in 1918 and located in Muncie, Ball State is one of Indiana's signature universities and an economic driver for the state.  The University's 2017-18 enrollment — 22,513 — is the largest in school history, and its freshman class of 4,002 is just three students shy of a school record.  Every Indiana county is represented among Ball State's student body, as are all 50 states and 68 countries.  Ball State's 731-acre campus is large enough to accommodate premier facilities and 19 NCAA Division I sports, but small enough to ensure the friendliness, personal attention, and access that are the hallmarks of the University, where 90 percent of classes are taught by faculty. Ball State had its smallest tuition increases in 41 years for fiscal years 2018 and 2019.