By: Pete Dall—
Muncie, IN—Sherriff-Goslin Roofing Company is one of the most unique companies that you are ever going to find. Sherriff-Goslin boasts a long and trustworthy reputation that has existed for over 113 years now.  For generations people in East Central Indiana have been trusting Sherriff-Goslin Roofing Company with the task of keeping their most important investment dry from the harsh weather and multiple climates that we experience here in Indiana.
The true unique advantage that Sherriff-Goslin offers is that they have the backing and strength of a large company with the local management and leadership that understands our challenges in East Central Indiana. Pete Dall has been the face of Sherriff-Goslin in East Central Indiana for over 22 years.  He has contracted and overseen thousands of projects in that time giving him an unmatched level of experience at his profession.  His staff of experienced installers have been working with Pete for many years and he trusts the people that he has put in place to make the right decisions when it comes to taking care of your roofing needs.
Hard to believe it's been five years since Pete and Sherriff-Goslin built their new facility in the air park industrial complex with a 6000 square foot facility built so that we can serve all of East Central Indiana in a more efficient fashion.  After 35 years of service at our shop on south Walnut Street it was time to expand our operation. Since that expansion, Sherriff-Goslin has been a leader company wide.
Sherriff-Goslin has the equipment to only keep our men safe but to allow them to do your job efficiently and keep it as clean as possible so that you can get back to your normal life as quickly as you can.  We carry full liability insurance and workers compensation to not only protect our employees but also to protect our customers.
So if you need help and are looking for a qualified professional, you can come see us at 205 Ontario Dr. in Muncie. Or you can look us up on line at worryfreeroof.com. Or of course just like the commercials say remember to Call Pete Dall Y'all.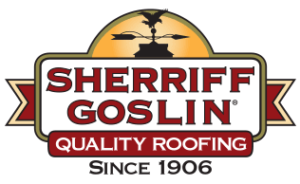 Sherriff-Goslin Roofing Company
205 W. Ontario Dr.
Muncie, IN 47307
(765) 286-0346