By: Mike Rhodes—
Muncie, IN—Muncie, Indiana is a dynamic city located 58 miles northeast of Indianapolis. Muncie has a unique place in the history of American demographics and social sciences as the site of the Middletown studies. These studies carried out by Helen and Robert Lynd in the 1920's and 1930's were intended to examine the norms of American culture in post-World War One America.
The city has been associated with being a "normal" small American city ever since. The city and the studies were inspirations for the Jimmy Stewart film Magic Town and the works of Sinclair Lewis, and to this day Muncie is used as a predictor for national trends. Muncie offers the advantages of larger cities without the hassles and costs associated with living in major metropolitan areas.
Muncie is the only city in Indiana to be recognized as the Indiana "Community of the Year" twice by the Indiana State Chamber of Commerce. In June of 2019, Muncie was named one of  the "Best Cities In the State to Live In" by chamberofcommerce.org. Rankings were achieved by measuring employment, housing, quality of life, education, and health.
Downtown
Muncie is home to a growing, burgeoning downtown with a variety of eateries, bars, and unique shopping experiences. The downtown area continues to see new growth and development.  The Courtyard by Marriott is Muncie's newest hotel and is helping to attract a number of new conventions and conferences held at the Horizon Convention Center. Recently, Accutech announced they would be moving their headquarters to downtown Muncie and Delaware Dynamics broke ground for a new facility just south of downtown. Muncie's various economic development partnerships helped make those projects happen, even when other counties around Muncie were lobbying hard for them.
Watch the City of Muncie video produced by Roger Overbey and narrated by WLBC's Steve Lindell.
Prairie Creek Reservoir
Prairie Creek Reservoir is the 2nd largest body of water in any public park in the United States. Located just southeast of the Muncie City limits, Prairie Creek offers a wide range of activities and amenities. Prairie Creek offers fishing, camping, swimming, boating, beach amenities, water sports, as well as hiking, biking dirt bike, ATV, multi-use, and horse trails.  Prairie Creek also has cabins, campsites, shelters, and piers available for rent. In addition to Prairie Creek Reservoir, the city has a total of 27 parks for residents to enjoy. 
Education
In 2017, U.S. News and World Reports named a number of Muncie area schools as some of the best in the nation.
Muncie is also home to Ball State University. Founded in 1918, Ball State is one of Indiana's signature universities and an economic driver for the state. Ball State's nearly 22,000 students come from all over Indiana, the nation, and the world, and its 780-acre campus is large enough to accommodate premier facilities and 19 NCAA Division I sports but small enough to ensure the friendliness, personal attention, and access that are the hallmarks of the University.
Ivy Tech is currently undergoing a dynamic renewal of its downtown Muncie campus. Ivy Tech Muncie's plans to re-envision its downtown campus directly aligns with Muncie's focus on downtown revitalization and will serve as a magnet to draw nearly 2,500 students and community members to the heart of the city.
Cardinal Greenway
Cardinal Greenways is a private, not-for-profit organization that encompasses the award-winning Cardinal Greenway, White River Greenway, Historic Wysor Street Depot and Cardinal Equestrian Trail. The Cardinal Greenway is the longest rail-trail in Indiana and spans 62 miles from Marion through Muncie to Richmond in East Central Indiana. In June of 2019, The historic Kitselman Bridge was put in place over the White River connecting the White River and Cardinal Greenways. The bridge installation is part of a larger transformative project that includes the Kitselman Trailhead, a new eastern gateway to the City of Muncie, Muncie Arts & Culture Trail, and the Kitselman Pure Energy Park (KPEP).
Cardinal Greenways Bike Fest
On July 26, 2019  the Cardinal Greenways Bike Fest comes to Muncie. Bike Fest is a weekend of cycling and festivities which includes a USA Bike sanctioned race, the Grand Prix Circuit Race. A variety of activities are planned for the weekend. Visit this link for more information. 
Healthcare
IU Health Ball Memorial Hospital serves as a tertiary referral center and teaching hospital for East Central Indiana and is part of Indiana University Health. IU Health Ball Memorial Hospital is accredited by the Joint Commission and maintains 1.2 million square feet of facilities. It is part of an elite group of hospitals with Magnet designation for nursing excellence. More than 17,700 patients are admitted every year and more than 300,000 outpatient procedures are completed annually. U.S.News & World Report also named Indiana University Health Ball Memorial Hospital among the state's top hospitals.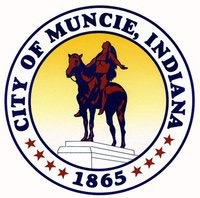 City of Muncie
The Honorable Dennis Tyler, Mayor
300 North High Street
Muncie, IN 47305
For more information and additional videos, visit the City of Muncie Website