By The Muncie Action Plan—
Muncie, IN—Muncie, Indiana has been recognized as one of 10 All-America City award winners. The National Civic League presented this honor to recognize Muncie's work in inclusive civic engagement to address health and well-being and create stronger connections among residents, businesses and nonprofit and government leaders.
 Since 1949, the National Civic League has recognized and celebrated the best in American civic innovation with the prestigious All-America City Award. This year, Muncie showed us how a determined community can tackle tough issues and create real change.
"We are happy to designate Muncie as an All-America City. They showed us through their application and presentation that they do a great job of engaging the whole city in enhancing health and well-being,"said Doug Linkhart, President of the National Civic League.
All applicants submitted their community-wide work on enhancing health and well-being through inclusive civic engagement and three projects for consideration, and the field was narrowed to 22. This week, finalist communities made presentations virtually to a jury of eleven national thought-leaders, showing how their community leverages civic engagement, collaboration, inclusiveness, and innovation to successfully address local issues.
A decade ago, a diverse group of citizens came together to chart a course toward a common future that reflected Muncie Indiana's shared values and aspirations. Over 2,000 residents participated in facilitated conversations designed to answer the question, "What is needed for Muncie to be the best it can be in the coming years?" This initiated a time of collaboration between key stakeholders resulting in the Muncie Action Plan (MAP) report which created a compelling agenda for the future. Muncie continues to work toward becoming a community that respects diversity, manages resources effectively, and efficiently, and works together to provide an attractive, desirable place for individuals, families, and businesses. The three projects highlighted in its All-America City application were launched under the MAP umbrella.
Muncie is now weaving a "Web of Support" with cross-generational mentorships, undertaking an immersive student teaching program "Schools within the Context of Community within the Whitely Neighborhood, and revitalizing once declining neighborhoods with the 8twelve Coalition.
"This award is an incredible honor. The people of Muncie's can-do spirit, collaborative nature, and tenacity to make our community the place in which people want to live, work and play made this award possible," said Muncie Action Plan President Jenni Marsh.
Long-time Muncie resident and champion Jane Ellery worked very hard on this nomination. Ellery is the Assistant Professor of Wellness Management at Ball State University and a Senior Fellow at Project for Public Spaces. Thanks to the WIPB production team led by Dottie Kreps the presentation to the National Civic League was smoothly done.
Videos of all 22 presentations will eventually be available on the National Civic League website. (https://www.nationalcivicleague.org/america-city-award/participant-presentations/).
Details on Muncie's featured programs can be found here. (https://www.nationalcivicleague.org/2020-all-america-city-finalist-muncie-in/)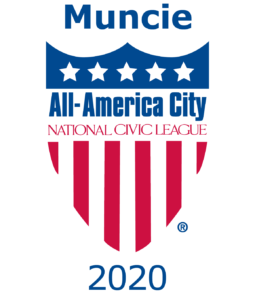 About the National Civic League
The National Civic League advances inclusive civic engagement through our community assistance programs, including tools, trainings and facilitation services, our award and recognition programs, and nationally recognized research and publications. We promote efforts that seek to listen to, and to learn from residents in ongoing conversations and leverage those insights to help reshape communities so they will thrive.
Click here to learn more about the National Civic League's All-America City Awards.