By George Foley—
Muncie, IN—The Black Music Month Celebration presented by Forward Visions, Inc. and in partnership with the Muncie Parks and Recreation Department is back. After having to cancel our celebration last summer due to COVID-19, we are excited to bring this event back to the people of Muncie and Delaware County on June 26th at McCulloch Park. The event will be free to the public and we will have live performances from three different groups.
The Black Music Month Celebration began in 2008 and has been under the direction of Forward Visions, Inc. since 2012 with the help of various musical friends around Muncie. The celebrations grew in 2019 in McCulloch Park, which drew people from Muncie, Anderson, and Indianapolis as well. The celebration includes top regional talent and a national act, as well as some great local talent. We have grown to include an outdoor main stage, vendors, and sponsors too.
The outdoor main stage will feature the top artists from 1:00 p.m. to 9:00 p.m. and around the park we will have all kinds of food vendors, arts and crafts vendors, sponsor displays, and plenty of room for all the attendees of the celebration outdoors. The park will also have a DJ playing music during the bands' intermissions.
In a mission statement from William McIntosh, President of Forward VIsions, Inc., he states: "Our goal from the very beginning has been to put on a fantastic Black Music Month Celebration that celebrates great music and our city. Beyond the day of the celebration itself, we also engage in a variety of music educational support and events year-round with local school music programs to help inspire the next generation of musicians. The Black Music Month Celebration started off at McCulloch Park. The talent includes local talent in Muncie to nationally known artists and the celebration we hope will become a major destination event."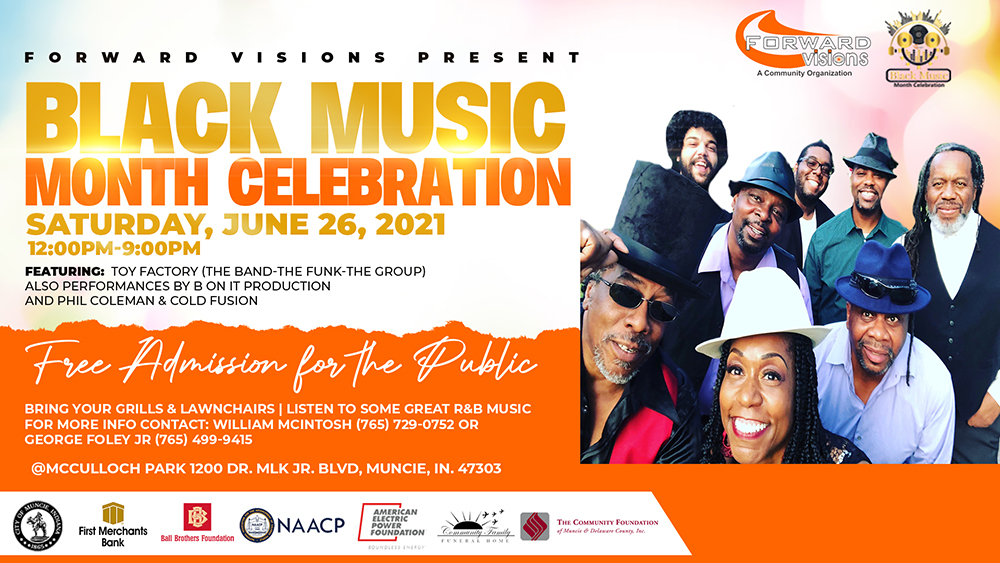 The headline band will be Toy Factory out of Indianapolis. Toy Factory is a high energy, non-stop party that takes influence from genres such as jazz, gospel, classical, soul, R&B, rock, funk, and a little bit of country too. Needless to say, Toy Factory is for everyone. Toy Factory is a professional eight member band that consists of keys, drums, bass, guitar, trumpet, saxophone, and male and female lead vocals. The band is full of musicians with diverse musical backgrounds that includes touring and performing with national recording artists. Toy Factory promises to bring a fun live experience to the City of Muncie.
Also performing at the Black Music Month Celebration will be B On It (aka B On It Productions). B On It was formedin 2012 in Indianapolis to push the boundaries and limitations of music. The group covers many different genres from pop, rock, R&B, hip hop, trip hop, neo soul, fusion, jazz, and techno. B On It is a five member group that work together as a collective to create some of the most interesting, thoughtful, and intentional music you have ever heard. The group performs with an exciting energy that is bound to leave you mesmerized and inspired to challenge you to think about music from a different perspective.
Lastly, we will have Phil Coleman & Cold Fusion Band. Phil Coleman is a Detroit keyboardist and will bring along his band, Cold Fusion, to play some jazz for the Muncie community. Get ready to sit back, relax, and enjoy some live jazz from these talented musicians.
In addition to all the fun performances and activities provided at the event, we will also be presenting the recipients of the Forward Visions, Inc. Youth Music Scholarship. Forward Visions, a Muncie community-based organization that is designed to support citizens of Muncie, is proud to present (10) ten Muncie-Delaware County Schools students in middle and high school a scholarship of $500 to support their efforts in mastering the art of music. This scholarship is designed to assist students in financial need to purchase a new instrument or maintenance on their current instrument.
Students are asked to submit a 60 second video through Tik-Tok or YouTube describing the following:
Why are you interested in music?
What have you done to pursue your musical dream?
Which instrument(s) do you currently play? Eligible criteria forscholarship consideration:
Students must be enrolled in a Muncie Community School or Delaware County Schools
Students must apply the scholarship to the rental or purchase of a musical instrument
Students must have a grade level of C+ academically
All scholarship applications and videos must be submitted by June 19th by email to forwardvisionsmuncie@gmail.com.
We would like to recognize and thank our sponsors for the 2021 Black Music Month Celebration: Muncie Parks & Recreation, WLBC, First Merchants Bank, Indiana Michigan Power/AEP, Delaware County Youth Probation, Muncie NAACP Branch Unit #3063, Muncie-Delaware County Community Foundation, Community Home Funeral Services, and Ivy Tech Community College.
We would also like to thank our grant funding by the Ironman Foundation and the Ball Brothers Foundation. All of this would not be possible without the help of our generous sponsors.