By Dan Wolfert—
MUNCIE, IN—On Friday, November 17, 2023, the Horizon Convention Center was the setting for an amazing celebration of dedication, community, and service. The 70th Anniversary Thanksgiving Luncheon, hosted by Hillcroft Services, marked a significant milestone in the organization's history and showcased seven decades of unwavering commitment to individuals with intellectual and developmental disabilities in our community.
This momentous occasion brought together over 600 supporters, clients, staff, and individuals from the community tocommemorate Hillcroft's seventy years of service, with a program brimming with inspiring moments and heartfelt recognition.
Among the highlights of the luncheon were the annual awards ceremony, a talent show featuring remarkable performers,and a historical video presentation that traced the journey of Hillcroft over the past seven decades. These elementscollectively served as a powerful reminder of the organization's significant contributions to the community.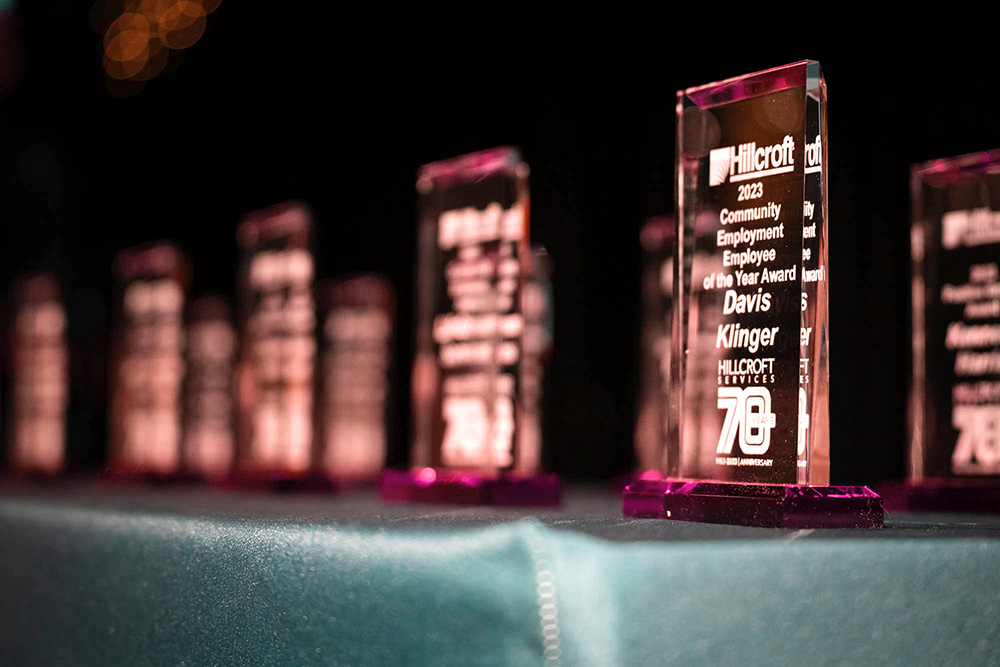 "Hillcroft's 70th Anniversary Thanksgiving Luncheon was a heartfelt tribute to our enduring commitment to the individuals with intellectual and developmental disabilities in our community," said Dan Wolfert, VP of Development & Marketing. "It was a day of reflection, celebration, and gratitude for the remarkable journey we have undertaken together."
As Hillcroft looks forward to the future, this event serves as a testament to their steady commitment and a reminder of the countless lives they have touched. The organization remains dedicated to its mission of providing support, care, and advocacy for individuals with intellectual and developmental disabilities.
To see the videos and photo gallery from the recent 70th luncheon, please visit: https://www.hillcroft.org/70years/
About Hillcroft Services, Inc.
Hillcroft Services, Inc. provides residential, employment, and community support services to individuals with disabilities in several counties in East Central Indiana. The mission of Hillcroft is: "To provide innovative services and supports for People with disabilities andtheir families; resulting in extraordinary differences in People's lives." Hillcroft is focused on creating a culture of strong values, understanding the importance of ethical behavior, and maintaining high quality services to the people we serve. If you would like more information on how you can support Hillcroft Services Inc., please visit https://www.hillcroft.org/contribute/ or contact Dan Wolfert at 765-284-4166 Ext. 1108 or dwolfert@hillcroft.org.