By: Mike Rhodes—
Eaton, IN—When you talk to Sue Dalton, owner of Dalton & Company about the "Secret Families Christmas Charity Fall Party & Turkey Shoot" to be held on her property this Saturday, it is obvious she is excited about it. More like exuberant. When talking about the event, she smiles ear-to-ear and it is clear she is passionate about this particular fundraiser for Secret Families—an annual event coming up during the holiday season.
Helping people is simply embedded into Sue's DNA. And one way of helping people is by donating her time, talent, home and property for this family-oriented event to benefit Secret Families Christmas Charity.
"I started doing this last year," Sue said. "The Secret Families board began allowing people to do their own fundraisers throughout the year. So, this year, we are having a Fall Party and Turkey Shoot. Last year we raised $3,800 dollars for Secret Families. This year we added the Turkey Shoot to the event."
The brainchild of Al Holdren, the Secret Families Christmas Charity began in 2004, and provides wrapped Christmas gifts to area families who have the greatest need.  Families that are struggling, really need to know that the community cares about them and will help them. Secret Families is an all-volunteer effort.
Sue's fundraising event is this Saturday, September 30th and begins at 11am on her property in Eaton. Sue has a small, private landing strip, so the kiddos will be able to see a number of airplanes "up close" that will fly-in and land for the event.
The address of the event is 17501 N. Co. Rd. 450 East, Eaton, IN 47338


The cost to attend is $20 per carload, (includes food and drinks) and all proceeds go directly to the Secret Families Christmas Charity.
A Live Auction will begin at 2pm, with all auction items donated by a variety of local businesses. Some of the items up for grabs include: Stained glass; a rock bench; and airplane clock; necklace from Pazols Jewelers, Christmas items from Ed's Glass and More; Carpet Cleaning from Damage Doctors; a floral item from Foister's Flowers; framed artwork from Creative Framing; and amish-made wooden storage bench; a cake, wine and chocolates package from Chef Caleb, Lowery's and Tonne Winery; and much, much more from a wide variety of local sponsors and contributors. All sponsors will be recognized at the event.
In addition to the Live Auction, there will be lots of activities, including a cake walk, karaoke, hula hoop contest, bounce houses and more.
New for 2017: Turkey Shoot
New this year, is the TURKEY Shoot. Each shooter will shoot a 12 gauge or 410 shotgun at a paper target. The most pellets holes in the large circle wins the round. Participants get to shoot three times at three different targets each over the course of the event. Shooters will compete for a TURKEY individually in each round and a best score of four person teams will be used to determine a TEAM Champion. The TEAM Champion will win four prize packages.
Cost for the shooting competition is $25 per person OR $100 for four person teams. Turkey shoot registration begins at 8am and competition begins at 9am.  Registration for the Turkey shoot is desired but not required. You can register the morning of the event.
Click on the PDF flyer below for complete details (2 pages.)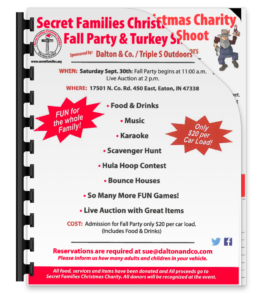 For more information contact:
Sue Dalton
sue@daltonandco.com
For more information about The Secret Families Christmas Charity, watch the video below.