By: Danyel Struble, Attorney at Law—
Muncie, IN—If you have suffered a personal injury that is the fault of another person or company, it is important to promptly consult with a personal injury attorney and preserve all evidence of the accident and your injuries. The journey through a personal injury case can be confusing and stressful.  As a personal injury attorney, I guide my clients through the following personal injury road map.
The first step for a potential personal injury client is meeting with an attorney to determine whether the client has a viable case. It is important for the attorney to know exactly what happened in the accident, what doctors were consulted and whether or not the client is still receiving medical treatment or has completed treatment.  Once the client is done treating, the attorney will send out requests to obtain all medical records and billing statements from the client's medical providers.  Those documents are compiled along with photographs of the scene and injuries and the accident report and submitted as a demand packet. If the defendant has insurance coverage, the demand packet will be sent to the defendant's insurance company.  The amount of money demanded is only a starting point and is very fact specific. Every personal injury claim is unique and clients should not compare their case or demand to others.
Once the demand packet has been received by the insurance company, the negotiation phase begins. The insurance adjuster and the attorney will make settlement offers and counteroffers in an attempt to reach a settlement. If an agreement is made prior to filing a lawsuit, that is a great accomplishment. However, if the negotiations are running close to the client's statute of limitations, a formal complaint must be filed with the court in an effort to preserve the client's claim. It is important to discuss the statute of limitations with your attorney as it varies depending upon the circumstances of each case.
Once suit is filed, the discovery process begins. Attorneys for both sides will send out interrogatories which are written questions to be answered, and requests for production in which documents requested must be tendered to the party requesting them. It is very common for counsel for the insurance company to take the deposition of the client. The deposition process consists of the defense attorney asking the client questions while the client's attorney is present, along with a court reporter who makes a record of the deposition and places the party giving a statement under oath.
If negotiations seem to be at a stalemate, it is common for parties to utilize mediation to try to reach a settlement. Mediation can be requested by either party or ordered by a judge. A mediator goes back and forth between the insurance adjuster and his or her counsel and the client and his or her counsel in an attempt to negotiate an agreement.
If a settlement is reached during the litigation phase, both parties will sign a settlement agreement. The injured party will release the claim against the defendant. Then, the insurance company will tender a check for the settlement amount to the injured party. Once those steps are complete, a stipulation of dismissal will be filed to close the case. A very high percentage of cases settle prior to a trial.
If no settlement is reached, the case will go to trial and be heard by a judge or a jury. Either party may request the case be heard in front of a jury. Jury trials can be very costly due to expert witness costs and the time necessary to prepare the case for trial. Once a verdict has been reached, it does not mean the case is definitely over. The losing party has an opportunity to appeal the decision to the appellate court.
Though the process may seem overwhelming, Beasley & Gilkison, LLP is experienced in litigating personal injury claims and is here to answer any questions you may have.
About the author: Danyel Struble is a graduate of Wes-Del High School, Ball State University, and Valparaiso University School of Law. She was recently honored as a Rising Star Attorney by Super Lawyers for her personal injury practice.
About Beasley & Gilkison
Our approach is to be actively involved in each personal injury case. When you experience an injury, we want to understand your needs and how the injury has affected you and your loved ones. If you or a member of your family are injured and someone else is at fault, we will make sure you get the best legal help available. Personal injury, and its after-effects, can be traumatic. Our goal is to make the process of getting you the compensation to which you are entitled as stress-free and efficient as possible. Please contact our office about a free personal injury consultation
We listen, analyze your unique situation, and prepare a course of action that best fits your needs. Contact one of our personal injury attorneys to schedule a consultation, or for more information, call 765-289-0661 or visit our Facebook page or website at beasleylaw.com.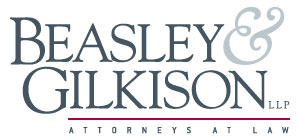 Beasley & Gilkison, Muncie's trusted attorneys for over 120 years.
This article is made available by the lawyer, law firm, or publisher for educational purposes only to give you general information and a general understanding of the law, not to provide specific legal advice. By using this site you understand that there is no attorney client relationship between you and the attorney, law firm, or publisher. The information provided should not be used as a substitute for competent legal advice from a licensed professional attorney in your state.