By: Allison Robbins—
Muncie, IN–Central City Leadership Team, a newly formed group of community members representing the private, public and philanthropic sectors of Muncie, is launching Next Muncie, a long-term redevelopment and revitalization initiative. The team announced this strategic effort under the name "Next Muncie" to emphasize its dedication toward continually propelling the city forward.
"Next Muncie is an exciting opportunity to help accelerate and prioritize the economic development and neighborhood revitalization projects that will transform our city," said Geoffrey S. Mearns, one of the co-chairs of the leadership team. 
Next Muncie will be rooted in the central city area, supported by anchor organizations IU Health Ball Memorial Hospital and Ball State University. This central location is prime for growth with cultural destinations like Minnetrista, the Downtown Historic District and the White River Greenway. 
"The health of our community is a foundational building block to our success," said Jeffrey C. Bird, one of the co-chairs of Central City Leadership Team. "Better health means better business, a robust community and a growing economy."
While the vision's initial focus will be in the central city, positive effects will reach all corners and all members of greater Muncie. 
"Our work helps Muncie become a model city in the future by focusing on connecting key areas to the city's center and capitalizing on the good work that is being done in our community," team member Kelly K. Shrock said.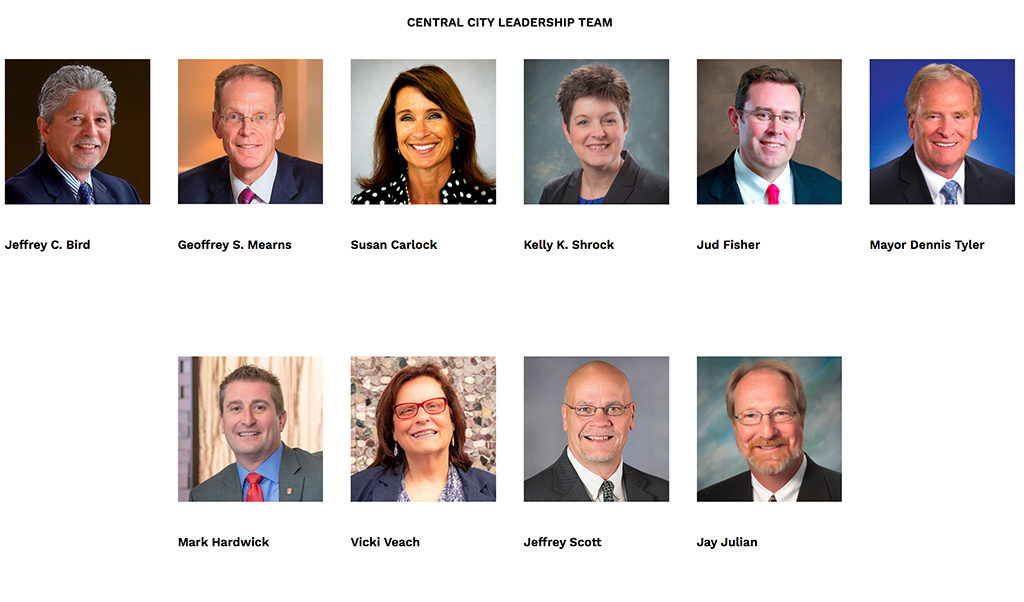 The vision states, "Muncie will emerge as a vibrant city that attracts and retains residents and visitors by providing high-quality employment opportunities, by revitalizing neighborhoods that offer healthy lifestyle choices, and by fostering an innovative culture of entrepreneurship, education, healthcare, arts, entertainment and recreation."
"The Central City belongs to our entire community," Mayor Dennis Tyler, one of the leadership team members, said. "It touches all citizens who are proud to call Muncie home. It's where many of our greatest assets are located. Momentum from developing the heart of our city encompasses all of our adjoining neighborhoods with quality of place and life. Each success leads to the future successes partnering together."
Next Muncie consists of strategically planned projects to increase the city's quality of life and economy by building a strong tax base and attracting new investments. These projects are developed by professional planners at Vandewalle & Associates, a planning and economic development firm that has been rebuilding cities and Midwest post-industrial economies for more than 30 years. Unique to this initiative, these projects are backed by a leadership team comprised of steady and committed city leaders.
"This team can provide a guiding force and unified vision to advance shared goals," Jay Julian, a member of the team, said. "The anticipated outcomes from the team's efforts are exciting and position the greater Muncie area for a brighter future."
The leadership team includes:
• Jeffrey C. Bird (co-chair), president of IU Health East Central Region; 
• Geoffrey S. Mearns (co-chair), president of Ball State University; 
• Susan Carlock, vice president of business development and corporate relations for Mursix Corporation; 
• Jud Fisher, president and chief operating officer of Ball Brothers Foundation; 
• Mark Hardwick, executive vice president, chief operating officer and chief financial officer of First Merchants Corporation; 
• Jay Julian, president/CEO and chief economic development officer of the Muncie-Delaware County Chamber of Commerce; 
• Jeffrey Scott, chancellor of Ivy Tech Community College Muncie Campus; 
• Kelly K. Shrock, president of The Community Foundation of Muncie and Delaware County; 
• Dennis Tyler, mayor of Muncie; and 
• Vicki Veach, executive director of Muncie Downtown Development Partnership. 
"The formation of the leadership team proves that this community's leadership is serious and passionate about investing in and advancing Muncie as an engaging and progressive city," team member Susan Carlock said. "To be a part of this vision is an opportunity to represent manufacturing as a sustainable economic driver to the city."
The team said it's excited about the impact and benefits these projects will have on everyone within the community. 
"This is a great opportunity to connect with community members," team member Vicki Veach said. "There is opportunity everywhere—our neighborhoods, our people, our culture—and by working together, our team can focus all that energy to make Muncie the best it can be."
There are currently two projects already in motion as part of Next Muncie: Opportunity Zones and Ivy Tech Downtown.
Gov. Eric J. Holcomb submitted 156 Opportunity Zone nominations across Indiana to the U.S. Department of the Treasury, four of which are located in Muncie and have been officially designated by the Treasury. Three of the four Muncie locations were recommended by the Next Muncie leadership team. The federal Opportunity Zone program, created under the 2017 Tax Cuts and Jobs Act, spurs investment in low-income rural and urban areas. 
Ivy Tech Community College announced in April construction plans for a new Downtown location and to make renovations to the Fisher Building and the Cowan Road campus. With these projects, Ivy Tech anticipates it will draw 2,500 students and community members to the heart of the city. Members of the leadership team attended the April event.
Since Next Muncie is a long-term initiative, further projects will continue to be announced over the next several years. The leadership team has emphasized its dedication to the projects and to Muncie.
"Next Muncie is focused on accelerating the economic vitality of our city," leadership team member Mark Hardwick said. "Positive outcomes are the priority, and the team is committed to the long-term success of this exciting revitalization effort."
For more information on Next Muncie's leadership team, areas of focus and future projects, visit nextmuncie.com.