By: Bethel Pointe Health & Rehabilitation Center—
Muncie, IN—Staying active is important for many reasons. It can give you the energy to help maintain your independence as a senior and also help to keep in check the symptoms of any illnesses. It's also good for your memory, mood and mind. Bethel Pointe Health and Rehab is committed to this truth and recently sent a team of residents to participate in the Summer Rehab Games.
Over 120 seniors across the state of Indiana showed that age is only a number as they competed in TLC Management's Summer Rehab Games. TLC's skilled nursing and rehabilitation communities, located throughout Indiana, brought teams of seniors to Indiana Wesleyan University on June 19th to compete in various sporting events. One of the main goals of the Summer Rehab Games is to create a "Platform of Hope." Each senior has a story. In many cases these stories begin with an unexpected illness or injuries that lead them to a hospital.  And as so many do, they wonder whether they're at the end of life or a modified version. Either way, the unknown is scary. These Games gave seniors the opportunity to say, life isn't over just because of their illness. In fact, there is hope that tomorrow will be filled with "rich" memories.
TLC's 17 facilities encouraged their rehab residents —both past and present— to compete. These seniors trained locally before competing for medals in Marion, Indiana.  Along with the athletic competition, participants received a hero's welcome from guest speakers, a parade, cheerleaders and proud fans.
One female athlete commented after competing all day, "Normally I take a nap after lunch, but not today. I am too excited."  Others gave it their all, racing their wheel chairs faster than the spotters could catch up, tossing bean bags through the corn hole for the win, stretching high in the air to slam the volleyball on a defender, smashing the ping pong toward the surprising opponent.  Perhaps one of the most touching moments was when two sons, cheering their mother, crossed the finish line of the 50 yard dash. Her big smile, their embrace and expression of mama wining a metal was priceless.  It truly was a day like none other for these athletes that rediscovered the feel of hope. As some expressed, "it doesn't matter whether I win a metal or not… I feel like I am a winner for competing."
Bethel Pointe's next community event to help promote an Active Life Style is August 9th from 6:00 to 9:00pm. The party will be for the entire family.  It features the Bulldogs performing their famous 50's and 60's rock and roll, car show, food vendors, dunk tank, bounce house and many other fun things to do.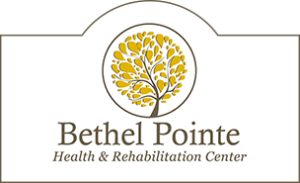 Bethel Pointe Health & Rehabilitation Center
3400 W. Community Drive
Muncie, IN 47304
Ph: (765) 289-2273
Our Website: http://www.bethelpointehealthandrehab.com/
Facebook site: https://www.facebook.com/BethelPointeHealthcare/