By: Cheryl Crowder—
Muncie, IN–Muncie Downtown Development Partnership (MDDP), in cooperation with Muncie Arts and Culture Council and Ball State University's Departments of Fine Art and Music, present ArtsWalk 2019. ArtsWalk will be held in the streets of DWNTWN Muncie on Oct. 3rd from 5-9 pm. Please join us for an exceptional evening of art, food and performances.
In addition to the well-established DWNTWN "First Thursday" art gallery openings, Ball State students and faculty will share a wealth of musical talent and visual artistry.
Muncie Symphony Orchestra, sponsored by Raymond James and Associates, will perform from 6-7 pm at the corner of Charles and Walnut St.
Follow the Pumpkin Trail to the Pumpkin Glow at Canan Commons. An all ages Pumpkin Carving display will be judged at 8:00 pm, with winners of cash and prizes to be announced at 8:45 from the Canan Commons Stage.  Rules and applications are available at our website. Downtownmuncie.org/pumpkinglow. Submissions will be accepted until October 1@ 5:00 pm
Muncie's own Flynnville Train will perform on the Canan Commons Stage from 7 pm—8:30pm. This is a free event. Flynnville Train is an American country rock band and hometown boys. Their self-titled debut album was released on September 11, 2007, and it produced two singles on the U.S. Billboard Hot Country Songs charts. The band is composed of Brian Flynn (lead vocals), Brent Flynn (lead guitar), Joseph Shreve (bass guitar), and Tommy Bales (drums).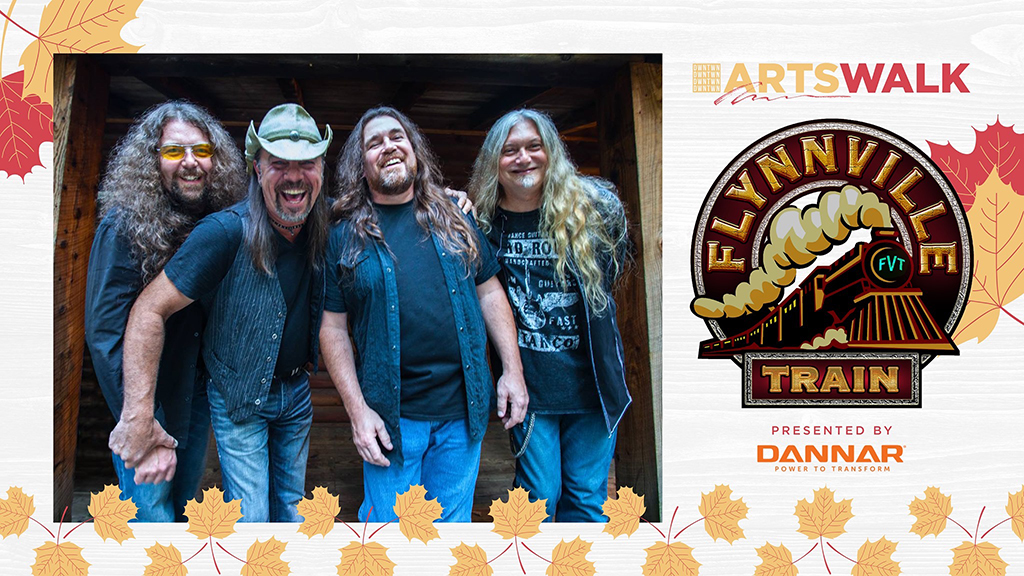 Prime Trust will host a "Soup Crawl" benefiting Second Harvest Food Bank at a variety of DWNTWN restaurants. Tickets are available in advance for $20 at all Prime Trust branches and Second Harvest Food Bank.
Muncie's YART 2019 will be held in conjunction with ArtsWalk. This guerrilla art sale, with a goal of making art affordable and accessible to the community, brings together artists and art patrons in a casual and unique setting.  Nearly 150 artists participated in last year's event.
Parking will not be available on Walnut St from Jackson to the Roundabout beginning at 3 pm. Walnut St. from Charles to the roundabout will be closed to thru traffic.
All ArtsWalk events are free and open to the public unless otherwise stated. A full listing of exhibitions, performance times and activities will be available on our website as information is received. Please visit us at downtownmuncie.org.