By John Carlson—
Being cranky old duffers long set in our ways, Nancy and I follow an invariable routine for weeknight Netflix television-watching that illustrates something of the dichotomy in our viewing tastes.
First we watch two or three short episodes of "Forensic Files."
This provides my daily minimum requirement of blood, guts, murder and mayhem. My having always been a fan of televised blood, guts, murder and mayhem, TV shows about cops and criminals are my favorite.
Then out of deference to Nancy's more refined taste, we watch an episode of "The Great British Baking Show."
What kind of stupid show is that?
Actually, it's starting to grow on me.
After about the ten-thousandth time you've watched some detective lift a killer's fingerprint from a bloody knife at a homicide scene, it's sort of refreshing to turn your attention to a hopeful baker's fingerprint left in icing on a sponge cake.
If you haven't seen "The Great British Baking Show," the producers bring a dozen contestants together. They are people of varied ages, both genders, and many walks of life, the only things they have in common being a love of baking and their funny accents. In strictly timed exercises, they bake a wide assortment of cakes, cookies, tarts and more. Then two judges set upon these bakers and their dishes to praise or repudiate them, thereby making or ruining somebody's day, but also inspiring them to greater effort the next time they reach for a mixing bowl.
Another interesting thing is what watching this show does to viewers who think these Brits aren't such hotshots at baking, and set out to prove it.
Now, I happen to be the husband of a seriously fine baker. It didn't take watching many episodes for Nancy to feel challenged to find her copy of "The Unofficial Downton Abbey Cookbook," then try her hand at making a "Decadent Chocolate Almond Cake."
And know what?
She flunked.
Sure, the cake tasted great. But it was almost like, as an American baker, some form of evil British-baking karma set out to ruin her effort. Beside taste on "The Great British Baking Show," appearance counts. As if it had been a victim on "Forensic Files," Nancy's "Decadent Chocolate Almond Cake" popped from the pan looking like its heart was hacked out by a serial killer with a seething hatred of baked goods.
You see this traumatic stuff all the time on "The Great British Baking Show."
Somebody's cake will collapse. Their decorations will suck. The holes in something will be too large. The holes in something will be too small. Somebody will neglect to turn on their oven. In one episode judge Paul Hollywood took a bite of cake and immediately spit it out in his hand. Its hapless baker had used salt instead of sugar.
That poor loser was on the next train home to Upper Tooting.
Hollywood, after all, is more than just a great professional baker and, as it turns out, an enthusiastic auto racer. He's also a slightly ominous character. Yes, he seems nice enough most of the time. But you get the impression if he ever got into a fight with fellow nasty British chef Gordon Ramsay, he'd kick Ramsay's buns, andhis scones.
The other judge is Mary Berry, who seems a proper British grandmotherly sort. Still, even she can send a chill down some poor amateur baker's spine, just by casting a look of disgust because his or her trifle is too jiggly.
I'll be frank. When I think about it, it's hard to categorize what is so appealing, so addictive, about this baking show. But allow me to try …
For one thing, it's educational. Never again will you regard pasties merely as something strippers twirl with their bosoms.
It also helps that the blonde and brunette ladies who host the show are funny, plus slightly nuts. In keeping with the comedic aura surrounding them, their show seems way less dismal and heart-wrenching than American reality TV. Like, with the Brits' baking show, the height of drama is some poor guy learning his crèmeanglaise is runny, whereas with American shows, it's some poor guy learning his wife is dating his dad.
I'll take runny crèmeanglaise any time.
You begin to root for your favorite contestants, too, guessing who'll be the week's "star baker." You also begin predicting which poor sucker, offered this once-in-a-lifetime chance at baker fame and fortune, blew the opportunity and is doomed to spend the rest of his or her life baking gugelhofps in obscurity.
But in the end, it's the baked goods themselves that are the true stars of "The Great British Baking Show." Many of these you have never heard of (see gugelhofps above), let alone know what the heck they taste like. But as the judges' eyes light up while some mousy little lady carries forward a custard recreation of Westminster Abbey she threw together over the last four hours, all you can think is, "Yeah, I could eat that!"
Well … that and, "Wow!"
So in the end, the show is pretty appetizing, not to mention edifying.
Of course, watching it can be a downer, too.
Never again are you going to get all excited when your spouse comes home from the grocery store and hollers, "Look, honey! Oreos!"
---
John's weekly columns are sponsored by Beasley & Gilkison, Muncie's trusted attorneys for over 120 years.
About Beasley & Gilkison
We listen, analyze your unique situation, and prepare a course of action that best fits your needs. Contact one of our attorneys to schedule a consultation, or for more information, call 765-289-0661 or visit our Facebook page or website at beasleylaw.com.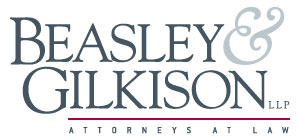 ---
A former longtime feature writer and columnist for The Star Press in Muncie, Indiana, John Carlson is a storyteller with an unflagging appreciation for the wonderful people of East Central Indiana and the tales of their lives, be they funny, poignant, inspirational or all three.  John's columns appear on MuncieJournal.com every Friday.