By John Disher—

Annual "100,000 Award" recognizes dedication to improving health and well-being
Muncie, IN— The Healthy Community Alliance of East Central Indiana (HCA) presented its "100,000 Award in Memory of Dr. George Branam" to the Healthy Lifestyle Center during its annual partner meeting on June 17, 2021. The annual award is given to an organization that supports the work of the HCA through outstanding leadership, innovative collaborations and unwavering dedication to improving the health and well-being of our community.
The HCA "100,000 Award" recognizes the legacy of the late George Branam, MD, a steadfast champion of community health and wellness, while celebrating the contributions of an outstanding HCA Partner organization. The number 100,000 represents Dr. Branam's lifetime miles completed to train for and compete in sixty-six running marathons.
"This year's award winner is truly representative of our stated values to improve the health and well-being of the communities we serve," noted John Disher, Director of Community Outreach for IU Health's East Central Region and Facilitator of the HCA. "The Healthy Lifestyle Center is truly a leading-edge collaborative initiative centered around the needs of each individual. The healthy lifestyle programming it provides has been extremely valuable to our 150 Healthy Community Alliance partners and the audiences they serve."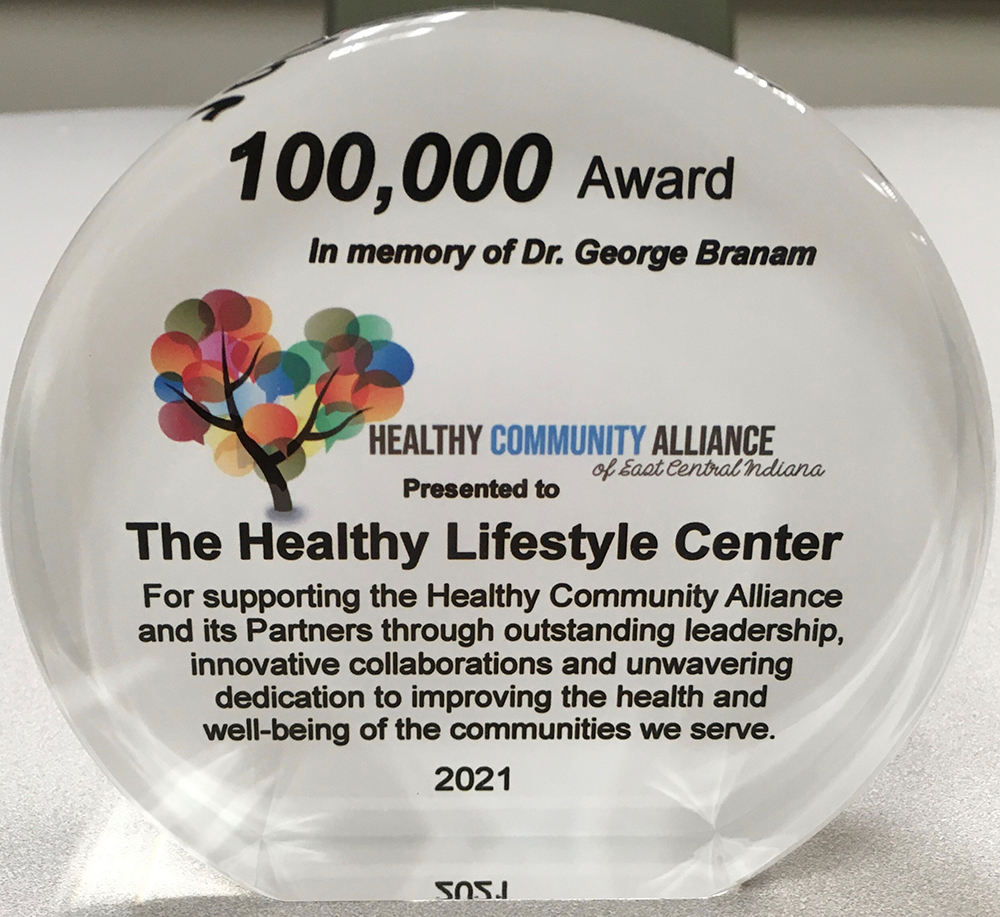 Dr. Leonard Kaminsky, Administrative Director of the Healthy Lifestyle Center (HLC) accepted the HCA "100,000 Award" award on behalf of the HLC and Ball State University's College of Health. "This award has special meaning for me personally, as I valued Dr. Branam as a personal mentor for many years and benefited immensely from his friendship and collegiality," he said. "Speaking on behalf of our dedicated faculty, staff and collaborators, we deeply appreciate this recognition and look forward to continued service to our fellow community members."
The Healthy Lifestyle Center is a community-based resource center focused on improving the health and well-being of individuals in our community. Its staff is comprised of faculty and students from the Ball State University College of Health and IU School of Medicine-Muncie with expertise in nutrition, exercise, health behavior change, social work support, audiology, and medical education. Learn more at www.hlcmuncie.com.
The Healthy Community Alliance was launched in 2016 as a collective impact model health coalition. Today, its partner organizations in Delaware, Blackford and Jay counties seek to promote increased physical activity, improved nutrition and tobacco prevention and cessation within their own sphere of influence. The HCA Steering Committee meets each year to nominate and select an HCA Partner organization to receive the "100,000 Award." Past recipients include the Purdue Extension in 2019 and Holy Trinity Lutheran Church in 2020. Indiana University Health Ball Memorial Hospital serves as the backbone organization and provides resources to support the work of the HCA.
Visit www.healthycommunityalliance.org to learn more.