By Kristen McConnell—
MUNCIE, IN— The YMCA of Muncie is emphasizing the importance of being active and involved, no matter where you are in life. Muncie and Delaware County residents are encouraged to engage at every age. A new program, Enhance Fitness, helps develop behaviors that are crucial to healthy aging, including healthy eating, increasing physical activity and social interaction—especially adults over 50.
The Centers for Disease Control and Prevention (CDC) suggests that adults 50 and older have a 70 percent chance of developing at least one chronic disease. While these numbers seem daunting, the good news is that making small lifestyle changes that include increasing physical activity, eating healthier and staying active socially can help older adults live better.
"You are never too old (or too young) to participate in activities that can enrich your physical, mental and emotional well-being," said Chad Zaucha, CEO, YMCA of Muncie. "If you need help, support or just a place to get started, community-based organizations like the Y provide the needed guidance to help older adults age well."
Enhance Fitness is 16-week, evidence-based, physical activity program proven to increase the physical, mental and social functioning of older adults – particularly those with arthritis. Almost 23 million Americans report that arthritis limits their physical activity. Research has shown that low-intensity physical activity performed on a regular basis can reduce pain, improve functioning, elevate mood and delay the onset of disability.
Participants in Enhance Fitness attend three, one-hour classes per week taught by certified Y instructor. Classes feature proven aerobic, strength training, balance and flexibility exercises that are safe, effective and modifiable for a variety of fitness levels. After four months, fitness assessments are conducted to track participants' progress. In addition to physical benefits, the program provides a fun, social atmosphere that fosters relationships between program participants.
For more information on Enhance Fitness join us Monday, August 16, 2021 at 2pm at the Downtown Y for a kick-off party. The Y will host a demo class, question and answer session and refreshments.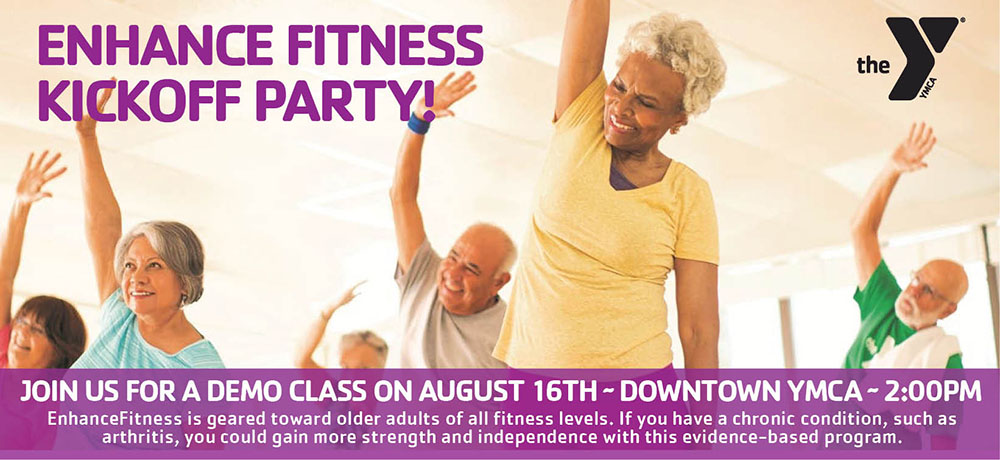 About the YMCA of Muncie
The Y is one of the nation's leading nonprofits strengthening communities through youth development, healthy living and social responsibility. The YMCA of Muncie has served Delaware and Kosciusko Counties since 1881, with an excellent track record of providing quality mission driven programs that enrich the lives of all people in spirit, mind and body.
Visit the Y online at www.muncieymca.org or on Social Media @YMCA of Muncie.