By Sarah Shaffer—
MUNCIE, Ind.—PlySpace, the artist in residence program of the Muncie Arts and Culture Council (MuncieArts) will be hosting Open Studios on the second floor of Madjax during October ArtsWalk on Thursday, October 7, from 5:00 to 8:00 pm. Stop by and get to know the fall PlySpace residents, Adam Stacey, Makenzie Goodman, Lyzette Wanzer and Camila Ortiz. Each will be on hand to talk about work and their upcoming projects in Muncie.
Adam Stacey and Makenzie Goodman, based between Los Angeles and Marfa, TX, have been collaborating together since 2016. Their research-based work incorporates a range of media, including photography, ceramics, video and found objects to create installations that explore values and belief systems associated with place. As Resident Fellows, Makenzie and Adam will be working with Ball State University School of Art students to create a collaborative "River Guide" about the White River in Muncie. The guidebook will include an array of processes and media to create exciting and varied content for the book, including cyanotype making, which will be done in a week-long workshop. The artists are also eager to learn more about the White River from the community, so please stop by and share your stories and insights.
Lyzette Wanzer is a San Francisco-based writer, editor, and writing workshop instructor. While at PlySpace, Lyzette will lead a free workshop for emerging writers called "Building A Career As A Literary Artist" on Saturday, October 9, from 10:00 am to 5:00 pm. The workshop is in partnership with Muncie Public Libraries and will take place at Carnegie Library in downtown Muncie. Registration is open now at PlySpace.org/events. Lyzette has been invited to present her work at conferences across the country, including the American and Popular Culture Association, Association of Writers & Writing Programs (AWP), College English Association (CEA), Louisville Conference on Literature & Culture Since 1900, Litquake Festival, San Francisco Writers Conference, and others.
Camila Ortiz is a songwriter, sound designer, and performer based in New York. She writes about water, driving, and dreams, and performs both as a solo artist and as a member of experimental pop duo Myrtle. Her practice also encompasses visual art and teaching. While at PlySpace, she hopes to write and record a series of songs about separation, migration, and family. She will also teach a youth workshop series on storytelling across disciplines.
For more information about this and other Fall Term events, visit our website, www.PlySpace.org or the PlySpace Facebook page. Questions or comments about the PlySpace Residency program, events, and community collaborations can be directed to the Program Coordinator, Sarah Shaffer, at sarah@munciearts.org. Learn more about the Muncie Arts & Culture Council at www.munciearts.org.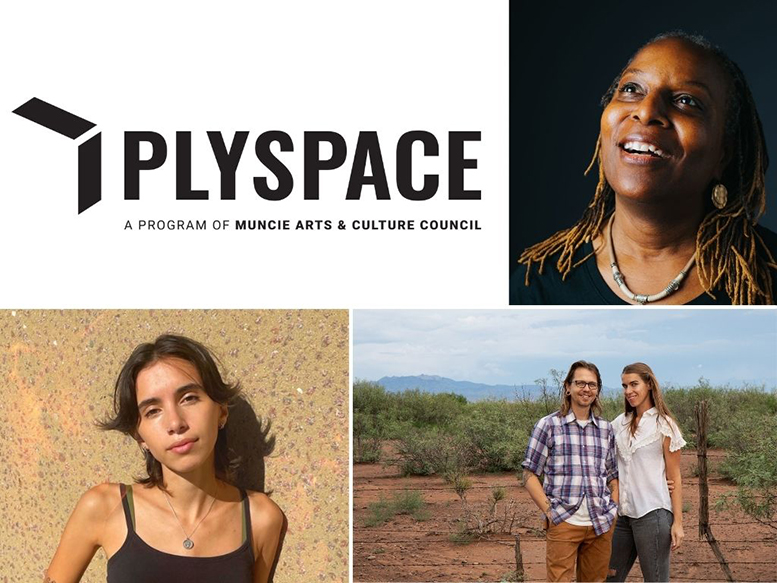 PlySpace is a program of the Muncie Arts and Culture Council and the City of Muncie. PlySpace is supported in part by an award from the National Endowment for the Arts, the Ball Brothers Foundation, and the Community Foundation of Muncie and Delaware County.