By John Carlson—
Since Nancy recently turned seventy-two and I just turned seventy-one, we were looking for the perfect age-appropriate gifts for each other's birthday, and found them.
Rocking chairs!
A rocking chair was probably a lot better gift for me than for her, though. That's because to use one, you have to sit down, which Nancy does approximately seven minutes per day. But it being a well known fact that opposites attract, I normally sit for approximately seven minutes per day, give or take twenty-three hours. It's like, I don't mean to brag or anything, but on warm days I have been known to leave my butt impression in plastic furniture.
Truth is, we hadn't really thought about buying each other rockers until we took my kid sister Patty down to Fountain Acres in Fountain City one recent weekend. We were there at the Amish grocery store to shop for cheese, candy and pone hoss, which is scraps of leftover hog meat and cornmeal ground up, mixed up and fried up into a yummy breakfast treat. While we didn't find any pone hoss, you couldn't miss the hundreds of Amish-made chairs, tables, chaise lounges, swings and other impressive things for sale on its crowded lot.
So we and our super-dog Jersey drove back down there a few days later, first eating our fill of the Amish deli's spectacular cold-cut sandwiches, building our strength to keep plopping in and out of chairs for three or four hours. As it turned out, however, about two minutes after beginning this challenging process I had found the chair of my dreams, it being one that not only rocked but also swiveled! Best of all, Nancy soon acquiesced, once she saw the drink holder holes cut into both armrests.
"Look!" she happily observed. "A place for herbal tea!"
"Look!" I happily observed. "A place for Budweiser!"
It was like some Higher Power was guiding us.
Having been informed that the guy to see after making our selections was Ben, Nancy trotted off looking for him. In no time, a slim young man wearing a straw hat and sporting a bushy reddish beard showed up, ripped the price tags off the two rockers and one small matching table we'd picked out, then handed the tags to Nancy to take to the cashier.
By the way, folks, Fountain Acres takes only cash or checks – no credit cards. But getting back to our chairs …
While checking out the rockers by tipping them and such, I was delighted to discover their unique anti-theft system. Here's how it works: Say a thief tries to steal your chair. In attempting to lift it, he immediately pops a hernia down near that body region known as Munchkinland, screams his head off while clutching his nether regions in agony, then tries to hustle away taking tiny excruciating steps before the cops descend upon him with dogs and tasers.
It's a beautiful thing! And why does it work?
Because our new chairs weigh a ton!
But that young Amish guy, Ben? I would wager he changes the shoes on Belgian draft horses simply by lifting their 2,200-pound fannies off the ground with one hand while nailing on some new horseshoes with the other. I know this because he didn't even flinch while loading our heavy new rockers into our pickup truck's bed, hoisting them like furniture for a Barbie's Dream House.
So afterward we drove contentedly home with our birthday treasures, backed the truck as close to our deck as possible, then removed our chairs, my face radiating a look of supreme satisfaction and happiness.
OK, I take that back …
Since I was in the delivery room on both occasions, I can assure you Nancy made fewer torturous facial contortions while giving birth to our children than I made attempting to drag those chairs toward our back deck. Fortunately, our daughter Katie soon arrived bearing a birthday cake, and rushed to help her mother. Meanwhile, I contributed to the effort by sitting down, an obvious vantage point for taking over the vital job of directing the operation by hollering encouraging words such as, "Sheesh!" and "Git a move on, will ya?" and "Are you chicks wimps or what?"
As it turns out, nothing sparks a woman's adrenaline rush more intensely than wanting to kill a mouthy husband.
Consequently, the chairs were on our deck in no time.
Since buying these two rocking chairs, Nancy and I have become convinced they're the greatest gifts we've ever given each other. We often head out to the deck, just the two of us with a cup of herbal tea and a Budweiser, to survey our property. We talk about old days and present days, sometimes hold hands, and rock while discussing our dreams for the future.
Of course, our dreams for the future don't always mesh. For example, Nancy may foolishly want us to enjoy a financially secure retirement, while I want to race sprint cars.
Should one of us piss off the other, we simply swivel our backs toward that spouse while throwing a hissy-fit until somebody – yeah, fine, it's always me – comes crawling back to apologize. By the way, in an unexpected benefit, it turns out all this rocking and swiveling provides a good workout for our elderly legs. We both feel younger already.
For Christmas, we're even thinking about giving each other pogo sticks.
---
John's weekly columns are sponsored by Beasley & Gilkison, Muncie's trusted attorneys for over 120 years.
About Beasley & Gilkison
We listen, analyze your unique situation, and prepare a course of action that best fits your needs. Contact one of our attorneys to schedule a consultation, or for more information, call 765-289-0661 or visit our Facebook page or website at beasleylaw.com.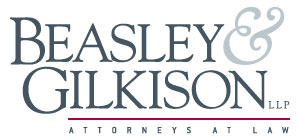 ---
A former longtime feature writer and columnist for The Star Press in Muncie, Indiana, John Carlson is a storyteller with an unflagging appreciation for the wonderful people of East Central Indiana and the tales of their lives, be they funny, poignant, inspirational or all three.  John's columns appear on MuncieJournal.com every Friday.