By: John Carlson—
Albany, IN—These days, Caleb Churchill is a busy man, a challenged man, a tired man.
But he's also a happy man.
"I've always wanted to start my own restaurant," said the young husband, father and chef. "Then the right opportunity came up."
For Churchill and his partners, Clyde Shaffer Jr. and Clyde's son, Josh, they were nearing the end of an exhausting process that began last June. Physical work on the new restaurant – and make no mistake, despite having the same old address at 721 W. Walnut St., it is a new restaurant – began after Pete's Duck Inn closed on December 30. It was Phil Peterson who, 30 years earlier, had overseen transformation of the old Green Duck Inn from a biker bar to a popular establishment that emphasized food as well as liquor.
A beloved figure in Albany, Peterson's last night was marked by lumps in throats and tears, Churchill noted. Peterson will always have a special status in this place, he added. But now it's the young chef and the Shaffers' turn to make their acquisition a success.
Ask Churchill his goal and he throws out a couple names that area foodies will relate to immediately – Bonge's Tavern north of Anderson in Perkinsville, and Fairmount's Grains & Grill.
"That's where I want to be heading with this place, in the same conversation," he said. "I want to be that place that draws people from the entire five surrounding counties. I think we can definitely do that."
But Churchill is also cognizant of the fact he already has an established customer base at Pete's.
"It's very important to me that this place stays an Albany place," he said. "It's important to me not to alienate the people of Albany by out-pricing it so they can't afford to come here. When we put the menu out, you're going to see a lot of similar stuff to what Pete was doing."
Addicted to Pete's frog legs? Have no fear, they'll be here.
Polish Mistakes your secret culinary addiction? Same goes for them, though Churchill, who had somehow gotten through life without eating one, will admit to doubts about them at first. The appetizer is made by spreading rye cocktail bread with a concoction of sausage and ground beef, Worcestershire sauce, garlic and, alas, Velveeta cheese.
That Velveeta sort of stuck in Churchill's craw.
"I thought, 'Oh, great, it's the chef's nightmare,'" he recalled. "Then I had some and was like, 'OK, I can deal with this.' It's sort of heavy, so we'll serve a little palate cleanser with it, the ying and the yang, so to speak." They are $8 for six.
As a highly experienced chef, though, you can bet there will be some intriguing new dishes to try. For one, there's Churchill's Indiana Risotto at $15, made with creamed risotto, creamed corn, pulled pork, coleslaw and grilled tomatoes. And when was the last time you ate Coconut Curried Mussels at $12 as an appetizer?
"Other specials will be, you know, me playing," Churchill said.
You'll always find great meat, though.
"I've been trained in French cooking, but my love is barbecue, and meat in general," he said. "Pulled pork, pork belly, smoked prime rib. … Then there are Pork Belly Bites, which are like the burnt ends of brisket. It's sweet, its smoky, its got a big flavor palate to it."
To prove it, he had a cook prepare a small frying pan full of the enticingly chunky pieces. Glazed in his own barbecue sauce and priced at $10, they were phenomenal, with Churchill calling them "meat candy." Speaking of which, there will be Candied Praline Bacon at $8, too.
As for folks who find no greater pleasure than in a fine hamburger, the selection will include his Caramel Burger at $9.50, topped with caramelized onions and provolone cheese. Other main-course offerings priced between $14 and $18 will include pork chops, grouper, chicken and waffles, Indiana Mac & Cheese topped with pulled pork and more.
There will be steaks, too, priced from $23 to $25. Filets. Ribeyes. New York Strips. But T-bones didn't make the cut.
"I couldn't get the price point down to where I needed it to be," Churchill admitted.
Chef of experience
It's when he casually explains such things that a person realizes how experienced a chef he is. A bear of a man, Churchill came to Muncie from Warsaw to play football as a center for the Ball State University Cardinals, then trained as a chef in Ivy Tech's culinary program.
After that?
"I worked my way down McGalliard Road at about all the restaurants," he recalled. He also did an internship at the Horizon Convention Center, worked as a sous chef at a couple corporate gigs in Indy and eventually landed the head chef job at what is now IU Health Ball Memorial Hospital. Leaving there, he became the chef for a couple national firms.
"I've been in kitchens from Boston to Phoenix," said Churchill, who with his wife, Shawn, is the father of two girls, Ella, 9, and Caroline, 5. It was Caroline's arrival that convinced him being on the road three weeks out of four wasn't for him. He then landed the head chef's job back where he had once interned, the Horizon Convention Center. He stayed there more than five years, until quitting to open up Pete's Bar and Grill.
"I really love that place," he said of the HCC. "It's not easy to cook for 1,000 people. Walking out of Rialzo, you have a real sense of accomplishment."
He also loves dropping fishing tackle into bodies of water, or at least he did back when he had what was called "free time." Nowadays, two other things he loves are his new kitchen and his business partners.
Churchill was handling the food service at HCC when Clyde, a major Delaware County hog producer, asked the chef to use his pork while catering his daughter's wedding dinner. Obviously, the chef, Clyde and Josh hit it off. The elder Shaffer knew Peterson, one thing led to another and … voila.
"It's a great relationship," Churchill said. "I'm really happy, and I think they are, too. It's always a chef's dream to have that kind of partner."
As for his kitchen …
"This is one of my dreams," Churchill said before leading a visitor out back. There where the smell of cooking ribs and burning hickory perfumed the air, he opened his smoker's door to reveal full racks of barbecued ribs slowly circling like a Ferris wheel. Its capacity, he noted, is 150 full racks.
Back inside, he pointed out the triple fryer and more. "The kitchen is roomy. It's air-conditioned, so it's cool. It's set up for ease of work. I've tried to lay out this kitchen so cooks love working here. I'll love working here. We can do anything. This could be a $2 million revenue kitchen, easily. I'm not saying we're gonna do that, but …"
Then he laughed. Who knows?
But, of course, the major concern is how changes will impact the diners.
Children are welcome
First of all, children are welcome inside the new Pete's. On one wall hangs a large blackboard with chalk for kids to draw on. The restaurant portion will seat 65 to 75 diners. When the weather is nice, there will be outside seating for 40 more. As for the full bar, there will be seating for 20-24. Beer lovers will be happy to know there are 12 draught taps. Of those taps, three or four will feature domestic brews, while the others will tap craft beers, including one always brewed in Muncie.
The shelves in the bar, from which hang gleaming copper mugs for serving Moscow Mules, are made from 120-year-old barn wood, said Kory Pratt, the bar and service manager. The barn wood is also used for trim work.
"It's hard as a rock," Pratt said.
Booth tables in the dining room were saved and restored from Pete's previous incarnation, Churchill said.
Outside, a windmill that will serve as Pete's new logo was about to be raised. Inside, "Pete's Wall" featured pictures and past newspaper articles about Peterson. Another wall featured family shots of the Shaffers and the Churchills.
"Family," the chef said. "This is who I am, and who the Shaffers are."
As for operating hours, Pete's Bar and Grill will be open Tuesday through Thursday from 11 a.m. to 9 p.m., Friday and Saturday from 11 a.m. to 10 p.m., and Sunday from 11 a.m. to 3 p.m.
It will be closed on Mondays, and there will be no breakfasts, though Churchill is offering a Breakfast Poutine with French fries topped by sausage gravy, over-easy eggs and green onions any time of day. Also, Sundays might feature "brunch-ish" additions to the menu.
The fact that his restaurant will be open to children makes Churchill particularly happy.
"It'll be the first job I've had where I can actually bring my family with me, and I am so excited about that," he said, noting it's not uncommon for a chef to work many hours a week. "Say it's Tuesday or Wednesday, my kids can come in, sit down and eat dinner with Dad."
Meanwhile, Pete's popular catering service is available, and will continue to be so, under the direction of Peterson's daughter, Jill Seals.
In preparing the new Pete's for opening, Churchill acknowledged the effort has been an "emotional roller coaster." That includes 17-hour work days filled with physical and mental strain.
"But at the same time," he said, "it's been a blessing because I know every nut and bolt that's gone into this place. I've tried to get my hands into as much stuff as possible."
Economic development assistance
Of considerable help has been Brad Bookout, Delaware County Economic Development; Jay Julian, Muncie-Delaware County Chamber of Commerce; and Traci Lutton, Muncie-Delaware County Economic Development Alliance.
"We've developed good relations with them, bounced ideas off them and gotten to know how things work in this town," Churchill said, calling to mind the paving of Pete's parking lot and landscaping work. "They have really stepped up for us. Brad and Jay have helped walk us through this whole thing. Without their help, what's being done outside would not have happened."
With its March 30 opening, all of this contributes to Churchill's goal of making Pete's Bar and Grill a place that Albany folks will take pride in.
"Some people said to me the place had lost its 'umph' I guess, but to me, it really hadn't," Churchill said. "Yes, we took away the duck, and I'm sorry for all the Albany people. But I think they'll get it when they come in."
What people are saying:
The food was amazing and the service was even better. We are a large family and can be somewhat of a hassle at times with 5 children- Marissa was incredible and went above and beyond to make the experience flawless. I see many meals and making memories with our children here in the future!—Tabbi

Great food, excellent and different choices on the menu, nice atmosphere, good variety of draft on tap with a full bar, beautiful new building.—Phil

Marissa was wonderful and very helpful explaining the menu! My husband ordered the pick three and I had the risotto. Both were amazing! Very satisfied and will be back!—Corie

Thanks Caleb and staff for treating our party of 12 loud ladies like queens! Our food was great, Mary was a fantastic server, and birthday girl Marta had a great time with her friends and family!—Victoria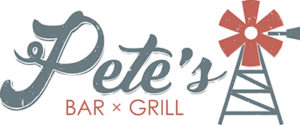 Pete's Bar & Grill
721 W. Walnut Street
Albany, IN 47320
Phone: 765-789-8488
Website: http://www.petesbarandgrill.com
Facebook: https://www.facebook.com/PetesBarGrill/