By: John Carlson—
This should get easier, shouldn't it? Losing a dog, I mean.
Nancy recently recited a list of the ones we've lost over the years. To that she added one who belonged to our daughter, Katie, plus one who belonged to our son and daughter-in-law, Johnny and Stephanie, their dogs counting as our grand-dogs and, therefore, as family.
"There's Ro," she began. "Layla. Dandelion. Maggie. Dorothy. Alfie …"
And now, Toby.
Whenever I hear stories about mean dogs, I always wonder whose abuse turned the animals into that? By nature, dogs want to love us and be loved by us. Toby, a prime example, was the sweetest little dachshund ever. In him there was none of that small-dog brashness or bossiness or hyper-rascality.  For hours at a time he'd sit beside Nancy. When I say sit, I mean sit like a human, straight up on his haunches and leaning against the backrest of her easy chair, often under the comforting presence of her left arm.
They looked pretty funny, you know? Just a dog and his Mom, reading a book or watching Lawrence Welk reruns.
But I'm convinced he sat that way for a reason. Doing so made it easier for him to gaze up worshipfully at Nancy's face, which he did half the time. This just reinforced the truth a buddy had once imparted to me, though he was speaking with regard to the preferences of children.
"Dad is OK," he noted, drily. "But you can't beat Mom."
Indeed, Toby let me share the house with them, but he was wholeheartedly Nancy's dog.
Just like Dandelion and our little dog Jersey, he came from founder Terri Panszi's Animal Rescue Fund. While there  he had attained a certain celebrity status, being Mister July in an ARF calendar, posing resplendently in a vibrant Hawaiian shirt.
Mellow as he was, he was also imbued with the spirit of adventure, one that early-on made him a constant flight risk.
"Toby's out," Nancy would casually announce on her way to grab the truck keys. I, in turn, would express my dissatisfaction with a quick burst of choice words, then head off in my own pursuit. Sometimes he'd make it no farther than our street's dead end. Other times, as if hungering for a taste of the wild life, he'd head for Tillotson Avenue, inciting panic in us. Thankfully, he was never crazy enough to try to dart across that busy thoroughfare, though I did find him close a time or two.
As he aged, however, the nature of his escapes changed. He might flee a hundred feet down the street, but no farther. Eventually, coming to realize he was living the good life at home, he spurned his wandering ways.
But now he's gone for good.
A Carlson male to the core, Toby had always possessed a healthy appetite, and a physique to match. But lately that appetite had begun to wane. The last two weeks of his life, he didn't eat a thing. He'd taste a tiny bit of food, maybe, then spit it out. We tried injecting broth into his mouth, would celebrate its successful delivery, then find it puddled on the floor.  Meanwhile, he fought attempts to medicate him like a dog possessed, his jaw clamped shut beyond our ability to pry it open.
I could speculate about the cause of his decline, but it would be just that – speculation. Visits to our vet's revealed no answers, leaving us mystified.
What was obvious, though, was the physical toll it was wreaking. As Toby's weight dropped, his eyes took on an empty look. Bones began to protrude. Navigating a single stairstep seemed like a Herculean task, one for which he often required assistance. Set on his feet on the floor, he'd remain standing there motionless for minutes, staring at nothing, until carried to his bed.
Notwithstanding our prayers for his recovery, it became obvious how this was going to end.
Which brings up a meme, not a very eye-catching or clever one, which I have seen on Facebook lately. It simply asks, have you ever cried over a dog?
Reading it, I keep thinking, are they kidding?
I've sat with buddies in bars before when that subject comes up. Some hardbitten soul, staring into his beer, will lament the favorite dog he had to put down, sheepishly admitting he cried his eyes out. Before you know it, half the guys nearby will be staring into their beers, too, admitting the same without a trace of embarrassment.
Dogs have that effect on a fellow.
When my folks were in their fifties, Dad had to put down his beloved beagle, Lily. Even forty years later and therefore well into his nineties, whenever he thought of that day, his face would contort and his eyes well up with tears.
A late bloomer in matters of dog-love, I was also in my fifties before I ever experienced anything of the sort. Ro's pedigree was non-existent, his having been rescued, along with his litter-mates, from a hollowed out tree trunk in the woods on a friend's farm. He had chutzpah, though, once interrupting our son's junior varsity football game after busting out of the house and charging onto the gridiron, where Nancy and I corralled him.
But now he was old and incontinent. You know when it's time. It was time. We agreed Nancy would take him to the vet, and I would meet them there to help her through it. But walking inside, the first thing I saw was Nancy, looking up at me through teary eyes. Sitting beside her, Ro looked up at me, too, with nothing in his eyes but a hint of sadness and profound canine trust.  Two steps in, I spun on my heels and hustled out, then bawled in my truck until it was over.
As it turns out, the passage of time hasn't helped much.
With her beloved dog bundled in a towel, Nancy carried Toby into the vet's. Hearing me fumble with our car's door handle, she turned and said, "I'll do it."
Coward that I am, I let her.
Since then, she's doing all right, and I am, too. That's assuming I don't picture those drawings you see of happy dogs off their leashes, leaving their masters behind, running excitedly across the rainbow bridge toward the heavenly light where, I frequently reassure myself, all dogs go.
Those images just kill me.
But while Toby is irreplaceable, after a while we'll adopt another dog for us to love, and for Jersey to pal around the house with. Opportunities abound, blessed as we are with that wonderful place named ARF, the caring folks at Muncie Animal Shelter, and Pamela Lewis Terhune's impressive new Grateful Rescue & Sanctuary.
As for now, though …
With only Nancy, Jersey and me at home, the house seems kind of empty.
---
John's weekly columns are sponsored by Beasley & Gilkison, Muncie's trusted attorneys for over 120 years.
About Beasley & Gilkison
We listen, analyze your unique situation, and prepare a course of action that best fits your needs. Contact one of our attorneys to schedule a consultation, or for more information, call 765-289-0661 or visit our Facebook page or website at beasleylaw.com.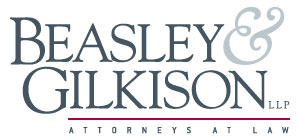 ---
A former longtime feature writer and columnist for The Star Press in Muncie, Indiana, John Carlson is a storyteller with an unflagging appreciation for the wonderful people of East Central Indiana and the tales of their lives, be they funny, poignant, inspirational or all three.  John's columns appear on MuncieJournal.com every Friday.