By: Mike Rhodes, Editor-in-Chief, MuncieJournal.com—
Muncie, IN—The City of Muncie will celebrate America's Independence Day with two spectacular fireworks performances by Pyrotechnico, headquartered in New Castle, PA.
The first show will be displayed at Prairie Creek Reservoir on Saturday, July 2nd, at 10pm. You may listen to the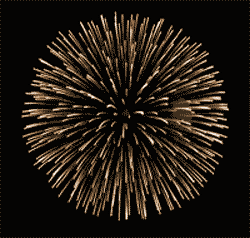 music accompanying the reservoir fireworks on 104.1 HD1 WLBC.
Saturday is also Ron Bonham day at Prairie Creek with many special activities planned throughout the day.
The official City of Muncie show will be aired by 104.1 HD1 WLBC and 104.9 WERK FM, with accompanying music, and will take place on the grounds of Muncie Central High School by the levee.  The show will kick off at 10pm on Monday, July 4th.
There will be a mix of patriotic favorites with today's family friendly music during the fireworks.
According to Cheryl Crowder with the Muncie Downtown Development Partnership, Wheeling Avenue will be closed from Wysor Street (High Street Bridge) to Minnetrista Blvd from 8pm-11ish. The Muncie Police and Fire departments will be assisting with traffic during the July 4th show to make it easier to get in and out of the venue.
Free Downtown Concert in Muncie before the Fireworks
USA's 246th Birthday Celebration in Muncie begins downtown at Canan Commons with the annual Fourth of July concert – a free, public patriotic program from the city's own America's Hometown Band.
The nation's 2022 spirit promises to be in top gear, on-stage Live, Monday, July 4 in a 1-hour program from just 7-8 pm – well before any of the local fireworks shows. Bring chairs or blankets for lawn seating/picnicking; free parking nearby.
Concert-goers can enjoy many traditional patriotic tunes again, the ones that so many Americans know by heart – such as America the Beautiful, rousing Sousa-type march tunes, and the tingly Armed Forces Salute.
Guest vocalist for this program is local minister, and musician, Ramona Dale.
The non-profit, 501c3 group known as 'America's Hometown Band' is Muncie's municipal band, founded in 1988 by Roger McConnell & Dr. Philip Cooley.
After the concert, attendees will want to venture over to the levee for the fireworks, as visibility will be better.

About Pyrotechnico
Using cutting edge technology and unparalleled customer service, we will provide a "wow" experience that is affordable, safe, and memorable. With offices from Pennsylvania to Los Angeles, we have developed unsurpassed relationships with federal, state, and local agencies to get you the necessary permissions and permits. Since 1889, we have been bringing people and communities together,creating memories, unforgettable experiences and amplifying excitement.
---
Infographic provided to MuncieJournal.com by: Wallet Hub