By: Meagan Fisher—
Since opening its doors in 2010, Pridemark Construction has established itself as a lead construction company in Muncie and its surrounding communities.  As a general contractor, Pridemark specializes in site development and construction management. With a knowledgeable staff and hard-working, experienced field employees, Pridemark can take on any project—big or small.
One of the things that sets Pridemark apart from other construction businesses is its in-house design team.  Pridemark has an interior designer and architect on staff that work with clients to determine their project goals and make ideas come to life.  They work hand-in-hand to determine your needs, make a plan, and develop a design. They follow the project from start to finish, handling all the details for you.
As the interior designer at Pridemark Construction, Megan Kubick has not only designed numerous projects, but has also served as an estimator and project manager.  Megan, a graduate of Michigan State University majoring in Interior Design, focuses first on getting to know the client and their personality, then recommends products and materials that will be a perfect fit for their needs.
One of the questions that Megan often gets is, "What's the difference between an interior designer and an interior decorator?"  In short, interior designers have formal schooling, with a focus on function and aesthetics.  Interior designers have an understanding of space planning, ADA guidelines, aging in place, materials, and other skill sets needed for most major renovations or remodels.  Whereas, interior decorators focus on the appearance of a space with furnishings, art, paint, etc.
Megan works with both commercial and residential clients. Recently, Kubick completed a residential kitchen and bathroom remodel.  The renovation included appliance changes and cabinet door refacing in the kitchen and a new double vanity, walk in shower, lighting, flooring and paint in the bathroom.  This project included plumbing and electrical work as well.
She also works with several commercial clients in the Muncie area. Recently, she has completed a library remodel for the Southern Wells School Corporation that included new casework, flooring, lighting, painting, dry-erase display surfaces, glass entry, and furnishings.  She also has completed several jobs with Meridian Services at a number of their locations. When asked about working with the Meridian staff, Megan said "One thing I love about working with Meridian Health Services is that they treat each facility and location as its own.  They never want to do the same thing twice, and it is so much fun to get to know how each facility operates and give finishes and furnishings that are fresh and new for that particular location's staff and clients."
Kubick regularly meets with representatives in the design industry.  She keeps up-to-date on the newest design products and trends. In addition to vendor resources, she has numerous construction industry contacts, saving you time and headaches of trying to find reliable and skilled contractors.  She also pays close attention to the building codes and is knowledgeable in standards, rules, and regulations.
Hiring an interior designer can help you avoid costly mistakes with your home or business project. A designer can help you set a realistic budget and save you time in researching products, brands and prices. Pridemarks design team offers the following services:
—Construction Documents/Drawings
—Space Planning
—Finish Specification
—Code Research
—Color Consultations
—Furniture Planning
—Kitchen and Bathroom Design
—Furniture and Artwork Specifications
—Construction Administration
If you are interested in meeting with The Pridemark Design Team for your next project, call 765-284-3833 today. Every project starts with an idea, and Pridemark has the experience and resources to make it happen.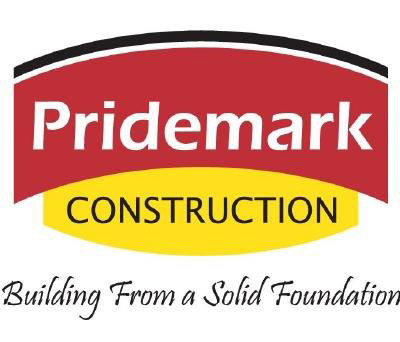 Pridemark Construction
P: 765.284.3833  |  F: 765.284.3776
421 S. Walnut Street  |  Muncie, IN 47305
www.pridemarkconstruction.com
Facebook Site